10
mn read
Exploring Cisco's Cloud Certifications CCNA Cloud and CCNP Cloud!
Cloud computing is an essential component of innovation in an era categorized by rapid technological change. The requirement for qualified people in cloud architecture and administration has increased as organizations worldwide transfer their business activities to cloud services. Cisco, an international pioneer in communications and IT services, has reacted to this need with two thorough cloud certification programs: CCNA Cloud and CCNP Cloud.
Individuals interested in a career in cloud computing should start with the CCNA Cloud qualification. It offers an excellent basis for cloud services and infrastructure, covering essential topics such as deploying cloud strategies, virtualization, and network architecture.
With an emphasis on practical applications, CCNA Cloud prepares students to design, oversee, and debug cloud implementations successfully.
The CCNP Cloud certification provides an in-depth and hands-on method for individuals looking to delve further into cloud computing. It delves into various sophisticated concepts like cloud digitization, security, and software deployment. This certification is intended to hone the skills required to design and deploy enterprise-level cloud systems.
In this blog, we'll go over the CCNA Cloud and CCNP Cloud certifications in detail, looking at their areas, test objectives, and the employment prospects they open up. Join us on our road to becoming a Cisco-certified cloud expert!
Cisco's cloud certifications are the best way to pursue your career if you are eagerly interested in cloud computing platforms. They can provide you with many more job opportunities, and you may get and become a valuable employee in an organization. As discussed above, the demand for cloud professionals is increasing gradually. Therefore, it is the best time for you to pursue your career with Cisco's cloud certifications: CCNA Cloud and CCNP Cloud.
Keep reading this fantastic blog to learn more about Cisco's cloud certifications and which one is best for you to pursue in 2023.
All About CCNA Cloud Certification
Here are all the details you need to know about CCNA cloud certification:
What is CCNA Cloud Certification?
CCNA Cloud has two certifications: 210-451 CLDFND & 210-455 CLDADM. These credentials are intended for newcomers. The renewal is only required once every three years, and certification is simple to obtain in the cloud sector. Many businesses use XAAS, and cloud computing is employed for processing 78% of their job processes. Let us explain more about the value of the CCNA Cloud certification for cloud jobs.
The CCNA Cloud qualification is a lab-based certification and training curriculum for data center cloud scientists, managers, developers, and architects. The use of cloud computing results in the creation of novel positions and duties, and cloud engineers must be able to deal with public, private, and mixed-cloud models.
This program will teach you how to build, provision, facilitate, and handle Clouds and Infrastructure as a Services deployments. It is one of the best Cisco's cloud certifications in 2023.
Cisco's CCNA Cloud certification is intended to identify cloud engineers, leaders, and network engineers who have mastered the abilities necessary to offer entry-level deployment and maintenance of the Cisco platform and inter-cloud systems.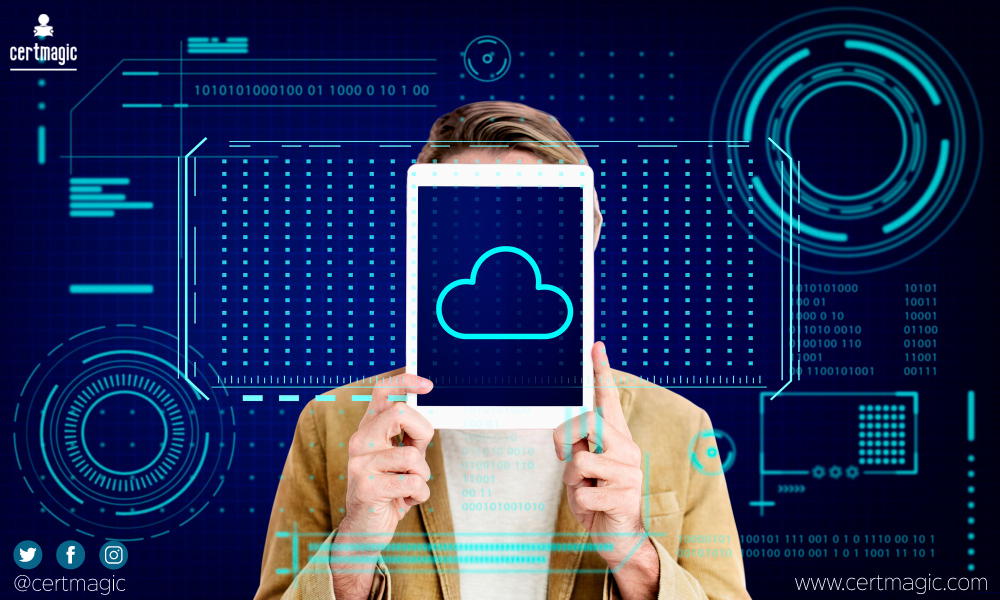 Why is CCNA Cloud Certification Important?
In a constantly shifting discipline of cloud-based computing, the CCNA Cloud Certification is critical. It denotes an in-depth grasp of the latest cloud technologies and their fit into current information technology architectures. This accreditation is vital for several reasons.
It evaluates knowledge of cloud deployment patterns, cloud safety, digitization, and management. This information is priceless in an era when firms are increasingly transitioning to cloud platforms. It is essential because it is one of the best Cisco's Cloud certifications in 2023.
Furthermore, CCNA Cloud-certified individuals are knowledgeable about Cisco cloud-based services. Cisco is a market leader in infrastructure and cloud technologies, and expertise in its goods and services is highly regarded by companies worldwide.
Furthermore, the accreditation indicates flexibility and preparedness for the next generation of information technology. Cloud computing is at the cutting edge of technical breakthroughs, and proficiency in this subject demonstrates an individual's dedication to remaining current with business trends.
Furthermore, CCNA Cloud-certified workers greatly help the company's productivity and affordability. They know how to optimize cloud resources, provide flexibility, and improve operational efficiency.
The CCNA Cloud Certification is significant because it gives workers the abilities and expertise to thrive in today's cloud-driven IT market. It attests to their knowledge of the latest technologies and presents them as essential assets in any company's digital growth path.
Who is a CCNA Certified Cloud Professional?
A CCNA Certified Cloud Professional is someone who has finished the Cisco Certified Network Associate or CCNA Cloud credential program efficiently. This certification denotes high expertise in building, deploying, and maintaining cloud systems based on Cisco technologies.
These experts are skilled at dealing with cloud-based services and facilities, allowing firms to exploit the numerous advantages of cloud computing. They are in-depth aware of cloud deployment methodologies, server virtualization, and cloud security, enabling them to create robust and secure cloud systems.
Cloud infrastructure elements such as virtual computers, preservation, and networking infrastructure are configured and managed by CCNA Certified Cloud Professionals. They are also skilled in automated cloud computing and coordination, which aids in streamlining processes and increasing efficiency.
Furthermore, these experts are well-versed in Cisco cloud computing solutions, which makes them valuable resources for enterprises that rely on Cisco systems for cloud installations. They can integrate Cisco services and goods effortlessly into current or new cloud-based systems.
CCNA Certified Cloud Professionals are critical in assisting enterprises in transitioning to and optimizing their cloud footprint. Their knowledge ensures enterprises fully utilize cloud technology while preserving security, dependability, and effectiveness.
What are CCNA Cloud Certification Exams?
You can take two total CCNA Cisco's Cloud certification exams to become a successful cloud professional. Here is the detail of both of these exams:
210-451 CLDFND (Understanding Cisco Cloud Fundamentals – CLDFND)
210-455 CLDADM (Introducing Cisco Cloud Administration – CLDADM)
Process for CCNA Cloud Recertification
The CCNA associate qualification is suitable for three years. To recertify, you must pass Any of the following tests before the current certification expires:
Except for the ICND1 exam, you must pass any electrical current Associate-level exam.
Pass the latest Professional-level 642-XXX certification or any of the Professional-level 300-XXX tests or
Pass the present Cisco Specialist exam (excluding Sales Specialist and Meeting Place Specialist tests, Implementation Cisco Telepresence Systems (ITI) exams, Cisco Conducting Virtual Classroom Training exams, or any 650 digital exams) or
Obtain a passing score on the most recent CCIE Writing Exam or
Pass the most recent CCDE Written Exam OR the most recent CCDE Operational Exam, or
You must pass the Cisco Licensed Administrator (CCAR) examination and the CCAR committee review to extend lesser credentials.
How to Pass the CCNA Cloud Exam?
A systematic approach is required to become successful in the CCNA Cloud Accreditation Exam. Here's a quick reference:
Make yourself familiar with the exam's subject design. It will assist you in allocating your study time more effectively.
Use Cisco-approved resources, educational materials, and renowned online courses. These resources are intended to cover every exam topic.
Set up an internet-based lab setting for arrangement, investigation, and modeling practice. This hands-on experience is priceless.
Ensure you have a solid understanding of networking fundamentals: study procedures, subnetting, and the Open Systems Interface (OSI) framework in depth.
Accent should be placed on the types of cloud services (IaaS, PaaS, SaaS), cloud deployment approaches (public, private, mixed), and cloud infrastructures.
Examine Cisco-specific cloud services such as Cisco UCS, ACI, and Intercloud Bridge.
Cisco's certifications are updated on an ongoing basis. To stay current on any modifications, see official materials or newsgroups.
There is a time limit on the exam. Study time management during mock tests to make sure you finish every question.
Participate in discussions with others who are getting ready for the identical exam. Discussion and the sharing of materials can be incredibly beneficial.
Take practice tests to assess your progress. It assists in identifying weak regions that require additional attention.
Revisit complex topics & go through your notes before the exam. Confirm your comprehension.
If you come across a difficult question, go on and return to it afterward.
Remember that passing the CCNA Cloud Certificate Exam requires rigorous preparation, practical testing, and a concentrated, calm demeanor on exam day. Also, remember that CCNA Cloud Certification is one of the best Cisco's cloud certifications.
All About CCNP Cloud Certification
Here are all the details you need to know about CCNP cloud certification:
What is CCNP Cloud Certification?
It is another of the best Cisco's cloud certifications but on the professional level. The CCNP or Cisco Certified Network Professional is a group of IT credentials provided by Cisco. Cisco is widely recognized for being an innovator in the area of networking technology, as well as for producing and marketing various high-tech products and software.
The CCNP Certifications are available in a variety of tracks, including the CCNP Cloud certification. It concentrates on providing cloud designers, managers, designers, and architects with the expertise and skills needed to create and operate cloud platforms while offering IaaS to enterprises.
The CCNP Cloud certification focuses on providing applicants with lab instruction for utilizing cloud computing technology and preparing them for employment.
Who is a CCNP Certified Cloud Professional?
A CCNP Certified Cloud Professional is a computer professional with extensive knowledge of cloud technology. CCNP signifies Cisco Distinguished Network competent, which refers to the cloud computer specialty in this context.
These individuals have undertaken extensive training and testing to confirm their abilities in designing, deploying, and managing cloud systems. They are well-versed in numerous cloud models, particularly public, private, and hybrid cloud environments. This knowledge helps them to efficiently develop and manage cloud computing systems while responding to the specific needs of enterprises.
CCNP Certified Cloud Professionals understand how to use cloud services and technologies to improve corporate operations. They excel in disciplines such as cloud security, virtualization digitization, and cloud network administration.
Their expertise involves installing apps, assuring scalability, and successfully maintaining data in the cloud.
Furthermore, these specialists have extensive knowledge of professional standard procedures and keep up with the most recent innovations in cloud computing. It enables them to make educated choices on cloud solutions that align with an organization's strategic objectives.
Employers respect CCNP Certified Cloud Workers' capacity to use cloud technology to optimize operations, increase scalability, and enhance overall efficiency. Their knowledge is critical in driving technological change initiatives and being competitive.
What are CCNP Cloud Certification Exams?
You can take four total CCNP Cisco's Cloud certification exams to become a fruitful cloud professional. Here is the aspect of these exams:
300-460 CLDINF (Implementing and Debugging the Cisco Cloud Infrastructure)
300-465 CLDDES (Designing the Cisco Cloud)
300-470 CLDAUT (Automating the Cisco's Enterprise Cloud)
300-475 CLDACI (Architecting the Cisco Cloud with App-Centric Infrastructure)
Process for CCNP Cloud Recertification
Recertification of the CCNP or Cisco Certified Network Professional Cloud accreditation is vital for individuals who want to keep their CCNP or Cisco Certified Network Professional Cloud qualification. It implies that people maintain current expertise and skills in the changing field of online networking.
Candidates have numerous alternatives for recertifying. They can recertify immediately after passing any present-day CCIE Writing Exam. They can accomplish the same outcome by passing any CCIE lab test or the latest CCDE Written test.
Passing the Cisco Certified Architect (CCAR) assessment and board approval is different. It is the highest certification available through the Cisco program, and it thoroughly evaluates a candidate's knowledge.
Those seeking a more simplified approach can enroll in the Continuing Studies Program. Candidates can renew without taking tests by earning points through different types of learning, such as visiting training courses, making demonstrations, or publishing papers.
It should be noted that the recertification procedure guarantees that professionals keep their competence and stay updated with industry requirements. It helps both the workers and the businesses they work for, ensuring that specialists with current knowledge and abilities administer the computer system infrastructure.
How to Pass the CCNP Cloud Exam?
An organized approach and meticulous planning are required to complete the CCNP Cloud Certification Exam successfully. Here's a quick reference guide to assist you in achieving success:
Get to know yourself with the Cisco test blueprint. This section lists the subjects covered as well as their corresponding weightings.
Use Cisco-approved resources such as books, online instruction, and practice examinations. These should be complemented with credible third-party information and communities.
Experience in the field is essential. To replicate real-world circumstances, set up a laboratory setting with technologies such as Cisco's VIRL (Virtual Internet Router Lab) or GNS3.
Get to know about exam topics, which are as follows:
Cloud Infrastructure: Gain a thorough understanding of cloud design, cloud computing, and data facility technologies.
Cloud Security: Appreciate cloud security rules, guidelines, and best practices.
Automation and Coordination: Understand how to use Puppet or Python to streamline tasks and coordinate workflows.
Cloud Administration and Monitoring: Learn about cloud computing platforms and surveillance tools.
Test your preparation with practice examinations. It lets you familiarize yourself with the exam's structure and time limits.
Keep up with industry trends and developments, particularly in cloud computing. Cisco certificates are continuously updated to reflect the most recent improvements.
Use your time wisely during the examination. Don't get bogged down in one topic; move forward and revisit later if necessary.
Review how you did after the exam, no matter the outcome. Determine areas for development and continuing your educational path.
Remember that passing a certification exam requires hard work, practical knowledge, and a thorough comprehension of the exam goals. The CCNP cloud credential is one of the best Cisco's cloud certifications in 2023.
Why You Must Get a CCNP Cloud Certification?
With the advent of digital media, almost every business generates enormous amounts of data, whether it be its customer base, inventory listings, operations paperwork, company records, or virtually any other digital information that must be maintained. On the other hand, building the technology and infrastructure for simple retrieval and retention of this data can be exceedingly costly and time-consuming. This makes cloud-based storage particularly desirable to businesses since it gives them quick storage space that can be adjusted up or down based on their needs and additional services at cheap costs.
The widespread adoption of cloud-based storage has created new positions and duties in the networking industry, and cloud professionals are in high demand.
Given Cisco's opportunity as a forerunner in Cloud technology, they are in an exceptional position to teach information and practical abilities to individuals looking to advance their professional lives in this industry.
A professional with a CCNP Cloud qualification is qualified to design, deploy, and debug Cisco Clouds and Intercloud Systems. Given Cisco's history in the IT business, a Cisco certification lends irrefutable legitimacy to a professional's talents and competence. It also helps people advance in their careers and earn a more excellent salary.
Which One is Better: CCNA Cloud or CCNP Certification?
Your professional objectives and present skill set influence the decision between CCNA Cloud and CCNP Certification.
The cloud systems and amenities are the emphasis of the CCNA Cloud accreditation. It is appropriate for those interested in cloud technology and interacting with platforms such as Cisco Cloud. This qualification is beneficial for positions such as cloud architect or cloud director.
On the other hand, CCNP (Cisco Certified Network Professional) is a more intermediate credential. It delves further into networking concepts such as routing, switching, and debugging. If you want to work as a networking engineer or network designer, the CCNP certification is quite important.
Consider your degree of expertise and professional goals. If you're new to connectivity and are interested in cloud computing, the CCNA Cloud certification is a terrific place to start. It teaches the fundamentals of cloud services.
However, CCNP is preferable if you currently have a great deal of networking experience and wish to enhance your career in networking engineering or design. It is a well-respected industry certification that displays a high degree of knowledge.
Ultimately, both certificates are helpful, but for distinct professional routes. Consider your hobbies and long-term ambitions to select the greatest decision for your professional growth.
Conclusion
Exploring Cisco's Cloud Certifications, including CCNA Cloud & CCNP Cloud, offers infinite possibilities in the ever-changing world of cloud technology. These credentials serve as pillars of expertise, providing professionals with the knowledge and abilities to navigate cloud-based systems. These are the best Cisco's cloud certifications in 2023.
The CCNA Cloud certification is a great place to start since it provides a firm background in cloud computing technologies, deployment strategies, and standard procedures. It's an essential first step for anyone interested in a cloud management or development career.
The CCNP Cloud certification, on the other hand, elevates knowledge to a higher level. It focuses on advanced topics such as cloud technology, security, and coordination to prepare individuals to conceive, design, and manage complicated cloud-based systems.
This certification validates a person's ability to lead the development and management of cloud systems.
Both certificates are highly relevant to the industry's need for qualified cloud professionals. As more businesses shift to cloud platforms, the demand for skilled people to oversee and optimize these settings has never been greater.
Taking the CCNA Cloud and CCNP Cloud exams is more than a certification; it is a dedication to keeping on the cutting edge of cloud computing. It enables employees to promote innovation, improve the effectiveness of operations, and fortify businesses in the face of a fast-changing digital ecosystem. With these certificates, one is well-positioned to make a significant influence in the field of the cloud.