7
mn read
Certification:
If formally attested or confirmed, an object, person, or organization can be certified as having a specific set of traits. Most of the time, this assurance comes from an external review, education, assessment, or audit. But this isn't always the case, and Accreditation is the process of certifying a specific organization. As defined by the U.S. National Council on Measurement in Education, "competent to practice" in a particular field of work means that a person has passed a certification test in that field.
Your dedication to professionalism, adherence to industry standards, and lifelong learning will be on full display if you acquire a certification. These characteristics can help you build your reputation and prestige in your network, with your present clients, and while you're looking for new business opportunities or bidding on projects.
Technology certification:
Certification in information technology (I.T.) shows that a person has demonstrated proficiency in a particular technology area. The CompTIA Network+ and Security+ certifications, for example, are great for novices, whereas the ITIL® Master certification requires years of real-world expertise.
Make sure you're up-to-date on the latest skills if you've built your career around obsolete technologies or methods. To accommodate you in advancing in your career, we've compiled a list of the top 20 I.T. certification courses for 2022:
Data Science
Big Data
Artificial Intelligence and Machine Learning
Cloud Computing
Project Management
Business Intelligence
Networking
Software Development
DevOps
Cyber Security
Top I.T. Certifications: Reasons to Get Certified: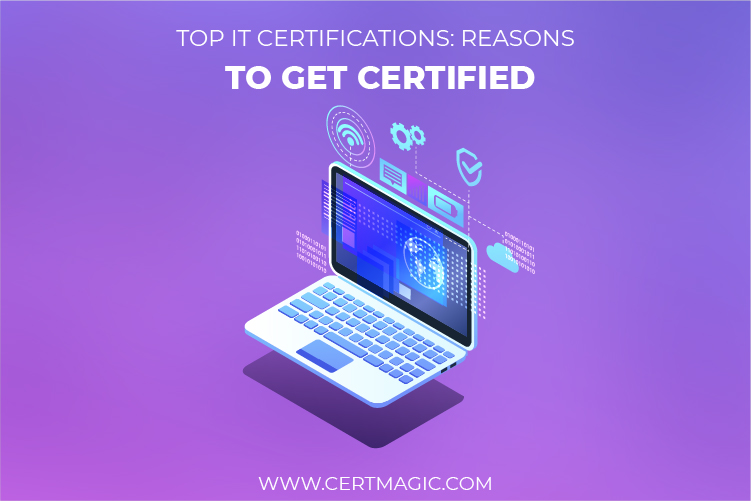 There are numerous reasons to obtain certifications in various I.T. disciplines and talents. We've compiled a list of three of them here:
If you're looking for a stamp of approval and confirmation that you're an expert in your industry, a certification can be a great way to do it. Having a certificate proves that you have the necessary abilities to succeed in your career.
In a competitive job market, getting certified might give you an edge in the hiring process and allow you to stand apart more quickly. With Simplilearn, you may demonstrate your readiness for a particular subject or assignment by completing lab work and hands-on projects. This program prepares you for the workforce in a way that a traditional bachelor's degree does not.
Because technology is constantly changing, certification is one of the best methods to stay updated. If you keep up with the latest technical advancements, you'll have an advantage over your competitors. You'll be a valuable asset to your work for years to come if you never stop learning.
Sources for Online Certification Training:
Online exam prep classes are available from Global Knowledge, a provider of technical skills training, but they are far from the only choice. These days, there is a wide range of online learning options, from courses sponsored by universities to those offered by technology giants like Amazon and IBM. Skillshare, a video-based learning portal, is also on the increase.
A selection of the most popular is provided below, but you should browse around because both prices and the quality of instruction can vary widely:
More than 200 colleges and businesses have partnered with Coursera to offer more than 4,400 courses. Coursera is used by more than 6,000 colleges and universities for approved and non-accredited online I.T. courses.
The best way to get school credit is to enroll in school and work toward a degree, although anyone can earn industry credentials for non-degree work. Coursera extends free access to more than 3,600 courses to students from any institution or college for those affected by the coronavirus pandemic.
EdX was founded by Harvard and MIT and is where students may learn. More than 3,000 online courses are available from more than 160 institutions, including Amazon and Google, on its platform. edX offers a Professional Certificate in I.T. Project Management from the University of Washington and a Professional Certificate in Data Science for Executives from Columbia University.
A global online learning platform for students, alumni, and workers of any university has been developed in response to the coronavirus epidemic by edX.
In addition to Lynda.com, a tremendous on-the-job learning resource is LinkedIn Learning (previously known as Lynda.com). More than 15,000 courses are available on the site, many of which are taught by experts in the field.
It is possible to earn certifications for I.T. courses, but not all are accredited. It is possible to take classes on a computer or a smartphone using LinkedIn's professional network, and you can take the courses at any time.
In total, there are 183,000 video courses on CertMagic, a massive online learning platform. Online learning has never been more accessible than it is today, thanks in large part to CertMagic, which frequently offers steep discounts on its courses. CertMagic allows for the sale of systems for profit by unaccredited instructors.
As a result, it may lose some of its lusters in the context of academics and certification. Additionally, I.T. professionals should exercise caution when pursuing authorized certificates, despite the abundance of resources available for learning programming languages.
You get what you pay for regarding training services, so it's fundamental to remember this while searching for the best deal. Keep in mind that many of these businesses provide free trial periods or trial courses to assist you in making the right choice. We've discovered that it's well worth the time and effort to investigate your online school this way before you make a final statement to enroll.
Some providers offer testimonials from former students as another valuable resource. They can assist you in determining whether or not a course is appropriate for your specific certification requirements.
The Best I.T. Certifications for 2022: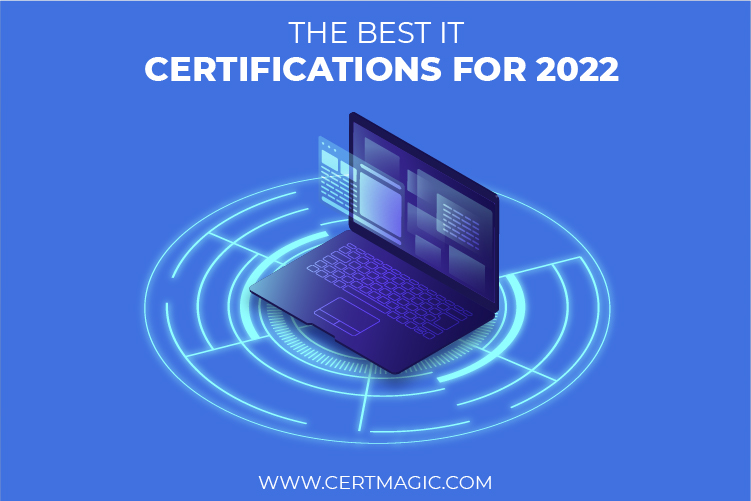 Science of data:
Data Science is one of the most in demand careers in the world today. In Data Science, there are countless opportunities and high-paying employment. Data science certifications include those from the following organizations:
Master's Degree Program in Data Science
Data Science and R Programming Expert for Business Analytics
The analyzer of Data The Master's Degree
The term "Big Data" refers to a Massive volumes of data can acquire new insights and better decision-making through the application of "Big Data," which itself is not a technology. Big Data experts are in sought-after as the volume of data grows daily. These prestigious I.T. credentials can assist you in securing employment in the rapidly expanding sector of Big Data:
MBA in Big Data and Analytics
The administrator of Big Data Hadoop is
Artificial Intelligence and Machine Learning
Today, A.I. and machine learning are the latest tech buzzwords, and large corporations utilize them to boost their bottom lines. Increasingly, A.I. and Machine Learning are finding their way into our daily lives, providing new professions and career opportunities in various industries. The following I.T. certifications will help you get your A.I. and machine learning career off to a good start or take you up the career ladder:
Master's Program in Artificial Intelligence Engineering, Data Science, and Machine Learning
Cloud Computing
Cloud computing, in a nutshell, is computing that takes place through the Internet. Companies used to have to download software to a physical computer or server to run it. The widespread use of cloud computing allows people to work on the same applications from different computers over the Internet. As a cloud computing professional, these top I.T. certifications will help you get started or grow your career:
Architect with AWS Certification
Amazon Web Services (AWS) Developer Associate
Azure Certification from Microsoft
Developers of the Blockchain
Project Management:
Project management is essential to ensure that the correct projects are taken on and completed on schedule. An effective project manager must work with teams, management, and stakeholders to set appropriate deadlines and milestones. Getting ahead in project management requires a combination of the following I.T. certifications:
PRINCE2 Foundation and Practitioner Certification Training for Project Management Professionals Certified ScrumMaster
Business Intelligence:
There is no need for everyone to be a data scientist to help enterprises put their data to good use. When it comes to capitalizing on information,those with a background in Business Intelligence (B.I.) can play a vital role without undergoing the extensive training required to become a data scientist. To get started in B.I., the recommended IT certifications to have are the following:
Training on Excel, Qlikview, and Informatica for business analytics
Networking:
Even in the era of cloud computing, every organization requires a well-maintained computer network. The following are the best I.T. certifications that will help you advance in your hardware and networking career:
Training for the CCNA Routing and Switching Certification
Training for the CCNP-Routing and Switching certification
Software Development:
Software developers are in high demand because of the rapid pace of change today, which necessitates the creation of new programs. I.T.
certifications such as those listed below can assist you in your career aspirations, whether entry-level or advanced.
A complete set of tools C Programming SQL Database Programming Java Certification Web Developer Automation Testing
DevOps:
The term "DevOps" refers to a method for accelerating software development by combining the efforts of software developers and operations personnel. Having these talents is essential for any company that wishes to compete in today's fast-paced industry. DevOps is a fast-growing field in the I.T. industry, and the ideal I.T. certifications to get you started include:
Puppet, Docker, and DevOps Architect Certification Training
Cyber Security:
Because every business has sensitive data protected from cyber-attacks, all companies must implement cyber security measures. Cyber security specialists are in high demand, making this a viable career path for those with aptitude. You can begin a career in cyber security by earning one of the following prestigious I.T. certifications:
Information Systems Auditor with Advanced Certification in Ethical Hacking
Conclusion
Is 2022 the year you begin a new chapter in your life and career? When it comes to career options, you can choose from various fast-growing industries, such as data analytics, cybersecurity, or digital marketing. Staying in your current sector and upskilling yourself for the next generation of software development tools or project management best practices is also an option. More important than deciding on a course of action is reskilling yourself to remain relevant. Please consider one of these buzz-generating certificates.