7
mn read
What are the Different Models of E-Commerce? you must need to Know in 2022
Over the past years, E-commerce has made a revolutionary impact on businesses. Every business worldwide is now moving toward an e-commerce platform because it gives companies an excellent profit margin compared to casual businesses. E-commerce had become a successful platform in the COVID-19 outbreak where people were restricted to their homes and could not go out to buy goods or services.
At that time, E-commerce platforms like Amazon, Esty, and other online shopping modules urged and provided the customer's online services from which they could order anything through the internet and get the desired product at their doorstep. According to the latest research, the electronic commerce business had made a record profit in the COVID-19 pandemic compared to standard years. In this era, the founder of Amazon "Jeff Bezos" became the wealthiest man on earth due to the enormous online demand.
Now every business wishes to move towards an E-commerce platform and make their product more profitable than ever. However, most people or companies are still unaware of the different models of E-commerce. There are various models of E-commerce available for other businesses. Now, it is up to the industry to select the best model to stand among the competitors.
We will now discuss the different models of electronic commerce you must know and select the best fit for your business. Keep exploring the article to learn more about the fantastic E-commerce business models.
What is E-commerce Business?
Electronic commerce or E-commerce is an online business platform that empowers various individuals and businesses to buy and sell services and goods over the online internet platform. Now and then, almost every product or service is available through E-commerce platforms. Smartphones, tablets, or computers can operate E-commerce businesses, and you can buy a needle through an online platform.
The best thing about an E-commerce Startup is that you don't need to leave your house and run to stores to buy products. Moreover, you only need to search for your desired product or services, and you can get the product at your doorstep. During the COVID-19 pandemic, people worldwide benefited from the electronic commerce business and bought almost everything without leaving their homes.
E-commerce business includes various gatherings and trading money or information to deal with any exchange. Online business or E-trade has helped associations (especially those with a restricted appearance like personal endeavors) draw near enough to design a more outstanding market presence by giving more affordable and more powerful assignment channels for their things or organizations. Target (TGT) improved its presence with an electronic store that licenses clients to purchase everything from pieces of clothing and coffeemakers to needles and action figures right from their homes.
What Products or Services You Can Sell Through E-commerce Platform?
The beauty of E-commerce is that it empowers small businesses to sell their services or products online worldwide and become big and profitable businesses. Not every company can be successful through E-commerce platforms. First of all, you must make sure that the product you are selling is in online demand or not.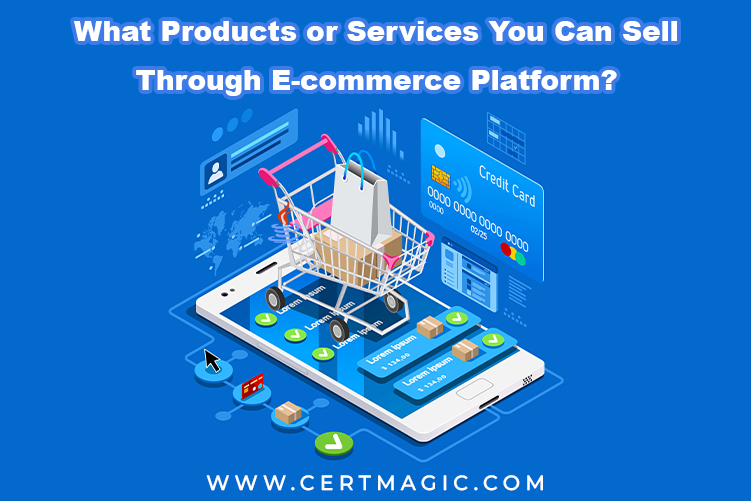 It is a misconception now that every business jumps into an electronic commerce platform without researching their product or competitors over the platform they are using. Without any knowledge about E-commerce, you cannot become a successful businessman, or your business will not succeed long last.
Before acquiring an E-commerce business, you must have a keen knowledge of the E-commerce models available. Here is the list of three things your business can sell on E-commerce platforms:
Physical Products: These products are the most recurrently selling product over the electronic commerce platform. These products need proper packaging, shipping, and safe delivery to the buyer's address. These are the products which get the highest sales. If you are a small business or a significant no matter, you can start selling in-demand physical products right away on different E-commerce models or platforms.
Digital Products: Various things can be passed on to a client on the web. Is it genuine that you are a site subject matter expert, content creator, or drawing skilled worker? You can make an electronic business store around cutting-edge things. Theft and Copyrights infringements are pretty tricky for such stores. Another huge need is the FAQ (Frequently Asked Questions) and Legal regions that cover the part of thing transport and the copyright status of your commitments.
Services: if you have a team of massagers or house cleaners, you also can buy such services online for different customers. If you have a group of gifted housekeepers, sitters, craftsmen, or you are an expert hairdresser who needs to offer clients to visit their home, you can make a site and sell these administrations on the web.
There is a tremendous internet-based interest in such administrations. During COVID-19, individuals have looked at 70% of these administrations instead of going to the shop and getting a hairstyle. Online business is the most effective way to sell your administration around your area.
What is the Major Classification of E-commerce?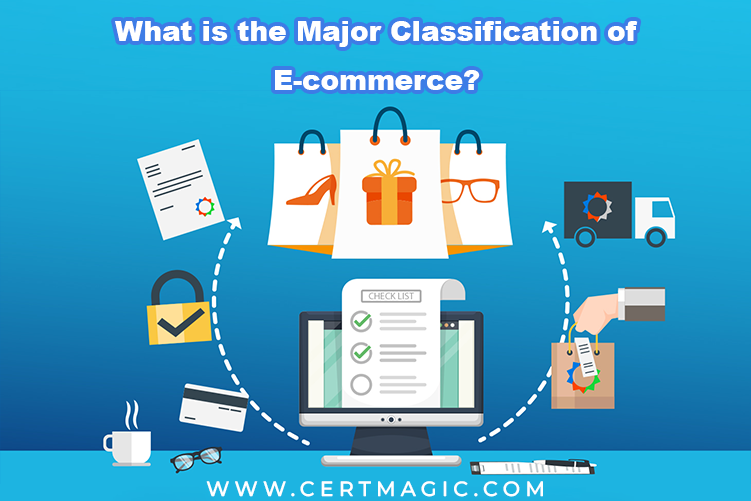 Electronic commerce or E-commerce includes all web-based commercial centers that associate with purchasers and vendors. The web is utilized to deal with every electronic exchange. The main thing to consider is the deal you are going for. What do you see yourself offering when evaluating the business you need to run?
Is your online business B2C, B2B, C2B, or C2C?
Do you have a thought for a sort of online business that you've been contemplating for some time? Do those abbreviations blow your mind? We should examine the most widely recognized ways online exchanges happen. The primary classification of E-commerce models is as follows:
B2B – Business-to-Business E-commerce
B2C – Business-to-Consumer E-commerce
C2C – Consumer-to-Consumer E-commerce
C2B – Consumer-to-Business E-commerce
B2G – Business-to-Government E-commerce
B2B2C – Business-to-Business-to-Consumer E-commerce
What are The Different E-commerce Models?
The next most important step for any business is to have a keen knowledge of different E-commerce platforms. You must choose which E-commerce model is the best fit according to your business. Some people like to sell their own manufactured products, and others want to sell other products and pay a commission. Here are the different E-commerce models you must know before entering the E-commerce world:
Drop Shipping Model
Drop shipping is the simplest form of E-commerce. It enables you to set up a storefront and sell other businesses' products to the consumers as a middle-man. You don't need your product or label in this model. You can quickly start your business with a minimum of $2000, and the ROI (Return On Investment) is higher among all the electronic commerce models. You only need to take the money from the supplier through PayPal or other payment methods, and the rest is up to the product supplier. Drop shipping frees you from managing inventory, packaging the products, warehousing stock, or delivery hustles.
Assuming that your vendors are slow, item quality is lower than anticipated, or there are issues with the request, it's your responsibility (and in your audits).
Numerous drop shippers use Shopify and Sprocket. It is fast and modest to set up. A famous model is to set up a speedy store and drive traffic with Facebook Ads. Edges are slender, and on the off chance that you can press out some benefit here, good luck with that. I'm holding off on outsourcing for the time being; however, you can bring in cash.
How does the Drop Shipping Model Works?
The drop shipping models work on the following four steps:
Connecting the website to a drop ship supplier
Consumer places order on your online store
The store then passes the order to drop ship provider
The provider then ships the order directly to the consumer
Wholesaling and Warehousing
Warehousing or Wholesaling models require a considerable investment at the beginning. In this model, you must manage all the inventory and warehousing stock and keep track of consumer orders. Moreover, you also need to collect the shipping information, and you also have to invest in warehouse space yourself.
Dollar Days is a web-based distributer with a monstrous inventory of more than 260,000 items. They utilize a vital methodology for retailers here – by offering case costs AND piece costs, they can provide to the overall population and retailers. It gives them a higher overall revenue than a rigorously discount model.
How does the Wholesaling and Warehousing Model Works?
To understand the wholesaling and warehousing of electronic commerce business, you must follow these four steps:
Online store orders direct from the suppliers
Suppliers then send the product to an online store warehouse
The consumer places the order from an online store
Supplier sends the customer order from warehouse supply
Private Labelling (PL) and Manufacturing
Assuming that you have a thought for the ideal item yet don't have the money or want to fabricate your processing plant, this may be the right action plan. Organizations that make items offsite available for purchase send the strategies or models to a contracted producer who delivers the item to meet client details and can either transport straightforwardly to the purchaser, to an outsider like Amazon, or the organization selling the eventual outcome.
On-request fabricating permits you to rapidly change providers, assuming you experience issues with item quality. The startup costs are negligible, and if you're keen on possibly opening your own creation offices later, this is an effective method for testing another item or idea.
How does Private Labelling (PL) and Manufacturing Model Works?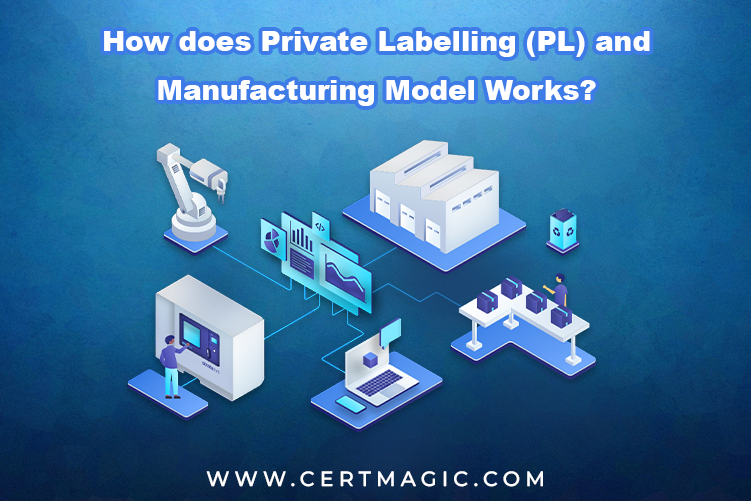 Private labeling (PL) and manufacturing work on the following four steps:
The original product is designed from scratch, or the previously present product gets modified
you manufacture the Customer product according to your specification
The consumer then places the order from the online store
The supplier finally sends the customer from the warehouse supply
White Labelling
White labeling is comparable. You pick an item that is now constructively sold by another organization, yet offers white mark choices, plan your bundle and name, and sell the item. It is customary in the magnificence and wellbeing businesses, yet more challenging to experience in different specialties.
But one issue with white labeling requests. You're left with anything you request, and most organizations set a base creation amount. On the off chance that you can't sell it, you'll need to live with it. Consider this choice while you're willing to work all day on your business and realize your item is popular.
How does the White Labelling Model Works?
The white labeling E-commerce model works on these four points:
Online store orders direct from the supplier
The existing product is relabeled with your branding
Consumer places orders from the online store
The supplier then sends customer orders from the warehouse supply
Conclusion
There is no doubt that the ecommerce platform has exceptional potential. However, planning is significant if you want to start selling your products through the electronic commerce platform. You must know which E-commerce model fits your business; otherwise, you can face a considerable loss. We've mentioned the best electronic commerce business models in 2022. You can select the best fit model for your business and start selling online. Do you have any questions about the different E-commerce models? Comment below your questions and get a reply from our professional team accordingly!