11
mn read
Navigating the World of Networks with CompTIA Network+
Computer networks have become the backbone of contemporary exchanges in today's interconnected globe. The capacity to develop, administer, and troubleshoot networking is critical for smooth operations in all sizes of enterprises, from tiny firms to global corporations. There is no better place to begin your journey into the dynamic networking world than with CompTIA Network+.
CompTIA Network+ is an internationally recognized badge that provides professionals with the necessary knowledge and abilities for navigating the complicated world of networks. Whether you are a prospective IT specialist or a skilled technician looking to enhance your career, this certification is applicable.
This blog intends to be your thorough guide to understanding and exploiting the power of CompTIA Network+. We'll cover everything from foundational networking principles to sophisticated troubleshooting methods. At the end of this blog, you'll have a firm foundation in networking fundamentals and the trust necessary to tackle practical networking difficulties.
Through this blog, we'll look at network specifications, routing and switching methods, network security, wireless networks, and other topics. We'll not only address the theoretical parts, but we'll also share helpful information and real-world instances to assist you in understanding the concepts.
Furthermore, we'll go through the advantages of earning the Network+ certification and how it can help you advance in your profession. You'll be able to demonstrate your expertise in network architecture, management, and debugging with this industry-recognized accreditation, making you a desired specialist in the IT job market.
So, whether you're relatively new to networking or a competent worker wishing to broaden your knowledge, come along with us as we discover the world of networking with CompTIA Network+. Prepare to access opportunities and elevate your networking abilities to new heights!
What is CompTIA Network+ Certification?
CompTIA Network+ is an intermediate-level accreditation, meaning passing it demands specific technical expertise and abilities. It is intended for professionals with some networking expertise who want to expand their knowledge of the subject. The test covers many topics, encompassing networking fundamentals, infrastructure, standards and services, network safety, and solving network problems.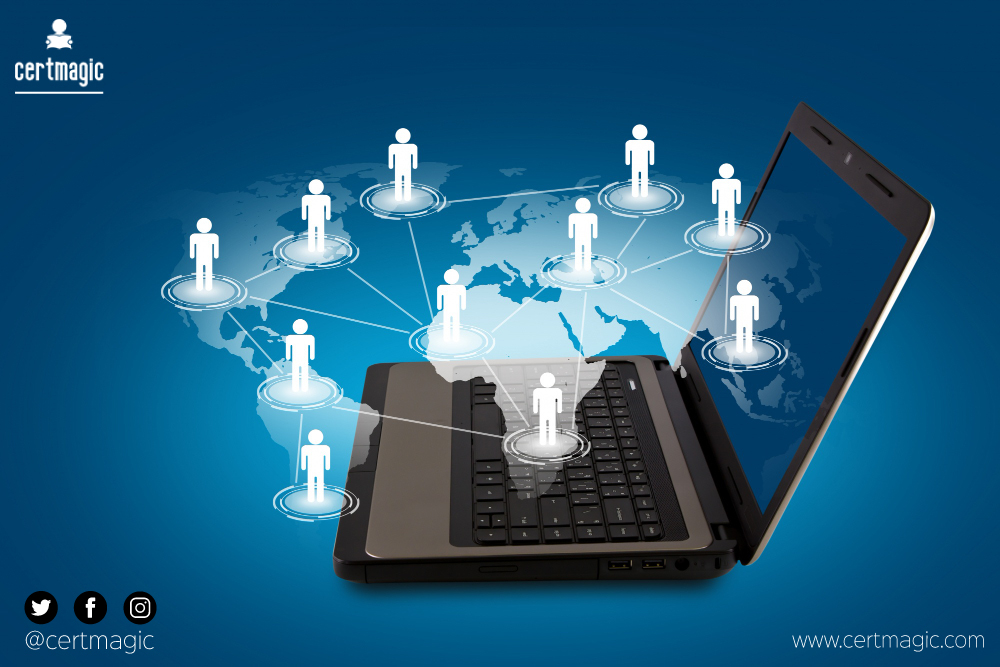 While the exam's difficulty rating varies from person to person, it is typically considered difficult. However, passing the examination is possible with proper preparation and study methods.
The Network+ certification is a well-known certification in the discipline of information technology. It verifies the necessary skills and knowledge for network design, management, and troubleshooting. This certification is widely recognized and indicates competency in network infrastructure, guidelines, security, and debugging.
Professionals who obtain the Network+ certification gain an authoritative basis in networking principles and techniques, allowing them to succeed in various jobs, such as network technicians, managers, and support experts. The certification covers a broad spectrum of topics: network topologies, IP address allocation, routing & switching, wireless networking, network safety, and virtualization.
The CompTIA Network+ certification, with its ever-increasing need for networking specialists, provides several job prospects in the IT industry.
Why is CompTIA Network+ Certification Beneficial in 2023?
The CompTIA Network+ certification will be even more valuable in 2023, making it a must-have for anybody interested in a career in computing. Businesses and organizations rely primarily on resilient and efficient network structures to operate efficiently as technology progresses exponentially. The CompTIA Network+ certification provides professionals with the knowledge and abilities to build, create, troubleshoot, and maintain networks, rendering them valuable investments in the job market.
One significant feature of the Network+ certificate is its vendor-agnostic approach. Unlike other networking certificates that focus on particular networking technologies or goods, the Network+ certification covers a wide range of networking principles and concepts, ensuring that qualified professionals thoroughly understand network basics. This adaptability enables Network+ certified persons to work in various contexts and network topologies.
Furthermore, the demand for network engineers is increasing in the digital age. The Network+ certification certifies a person's knowledge of necessary networking abilities like network standards, network safety, network investigating, and network management. Employers value these abilities and frequently seek Network+-certified people to ensure the network's foundation runs smoothly and securely.
Furthermore, the CompTIA Network+ certification is a starting point for job growth. It provides a solid basis for further expertise and more advanced networking certifications. It provides a sturdy foundation of knowledge, making high-level qualifications such as Cisco Certified Network Professional (CCNP) or CISSP more accessible.
In 2023, the Network+ certification will provide various benefits. It offers a vendor-neutral method, demonstrates knowledge of networking concepts, and improves job opportunities in a world that is becoming increasingly interconnected. Individuals who get this certification may market themselves as skilled network professionals, ready to flourish in the fast-paced and ever-changing networking industry.
Primary Skills Required to Become a Certified CompTIA Network+ Professional
Here are the important skills required to become a Certified Network+ Professional:
Fundamentals of Networking: A thorough understanding of networking ideologies, such as TCP/IP, the Open Systems Interconnection (OSI) outline, IP address assignment, subnetting, and routing procedures, is required.
Networking Hardware and Technologies: It is critical to be familiar with different network equipment such as switches, routers, network firewalls, and access points. Mastering technologies such as VLANs, VPNs, and wireless communication is also required.
Troubleshooting a Network: A Network+ specialist must be proficient in troubleshooting procedures. It includes recognizing and fixing typical network faults, analyzing network information, and successfully utilizing diagnostic tools.
Network Safety: A solid understanding of computer security concepts, particularly encryption, identification protocols, restricted access, and typical security risks, is necessary. Understanding recommended practices for network security is critical.
Network Administration: Knowledge of network procedures, including network administration, monitoring, and paperwork, is essential. It is also important to understand network efficiency optimization and capacity management.
Protocols and Specifications for Networks: It is required to be familiar with network connections such as TCP, UDP, IP, DNS, DHCP, and SNMP. Understanding industry guidelines and procedures linked to network connectivity is critical for network configuration and troubleshooting.
Development and installation of a network: An essential skill is managing network equipment and establishing network connections. It covers understanding IP addressing, subnetting, network and switch configuration, and network service implementation.
Knowledge of Technology and Software: It is necessary to comprehend hardware components such as networking interface cards, wires, and connectors. Furthermore, expertise with network Operating Systems (NOS) such as Linux and Windows and their structures is required.
Communication and documentation: It is critical to have strong documentation abilities for network schematics, configuration files, and diagnostic methods. Good interpersonal skills are also required for team collaboration and conveying technical concepts to non-technical folks.
Industry Standards and Guidelines: A CompTIA Network+ expert must be familiar with industry standards, including TCP/IP protocol Ethernet and IEEE 802.11, and best practices for networking development and execution.
Remember that while these are necessary skills for CompTIA Network+ certification, ongoing learning and being current with evolving technologies and business trends are critical for an influential networking career.
How Hard is CompTIA Network+ Certification Exam?
Is CompTIA Network+ challenging to pass? What is making it difficult? What are the difficulties, as well as can I get round them? You may be questioning yourself all of these queries. The conflict between these queries is entirely natural. To clear your observance, let's take a aspect at a few of the aspects that make Network+ thought-provoking.
To begin with, studying Network+ yourself is challenging. It also takes effort and time. The task turn out to be even more problematic if you come from a non-IT background. As a result, while studying for the Network+ exam, ensure you have good advice.
Following that, Network+ learning resources are abundant (Blogs, books, digital courses) available for newcomers. While a few of them are outstanding, others are not. As a result, it is your accountability to choose the greatest ones for you founded on relevant facts.
Finally, applicants focus on depth rather than breadth of subject information, which often fails. It is crucial to remember that Network+ does not assess whether you are highly knowledgeable in a specific facet of networking; instead, it assesses your fundamental knowledge of networking throughout a wide range of topics. As a result, it is critical to prioritize covering all themes before delving into the specifics of each.
The Network+ exam is not easy to pass, but not impossible. CompTIA does not provide typical success rates for any exam, yet many credential holders have easily obtained this certification.
If you study diligently and follow the exam goals, you have a good chance of passing the Network+ exam.
If you are a complete novice in the IT world, you may choose to start with a smaller-scale certification, including the CompTIA A+. That way, you'll master some fundamental skills and not feel lost when confronted with difficult Network+ exam topics like TCP/IP, Ethernet fundamentals, IP Addressing, etc.
CompTIA Network+ Exam Details
Here is the complete detail for the Network+ Exam:
Number of Questions: Up to 90
Question Type: Multiple Choice (MCQs), drag and drop, and PDQ
Test Length: 90 Minutes
Scoring: Minimum 720 out of 900
Recommended Experience: A+ plus at least 9 months of networking expertise is needed.
Required Prerequisite: None
Suggested Prerequisite: CompTIA A+ and solid networking knowledge
The Network+ has a limit of 90 questions. You will be prerequisite to complete three queries types: multiple-choice (MCQs), performance-oriented, and drag-and-drop.
You have around 90 minutes to respond to any inquiries as possible. The passing score is 720 on a rating system of 100 to 900, and if the required number of credits is obtained, a certificate of accomplishment will be issued.
You do not require any prior work or practical training, nor must you have completed any other CompTIA examinations before taking the Network+. Conversely, CompTIA involves at least 9 to 12 months of networking expertise and CompTIA A+ certification.
Using approved CompTIA instructional resources will make you more likely to complete your exam. Study guides, interactive laboratories, learn and lab packages, instructor-led instruction, and test preparation options exist.
Networking fundamentals like networking protocols, passive optical fiber networks, network reduction, translating network addresses, and ad-hoc networks, among others, are all easier to understand if you prepare for and pass the CompTIA Network+ exam.
This knowledge will impress hiring employers. Network+ will immediately improve your CV and LinkedIn account. Above all, completing the Network+ exam can help you develop a career in the IT industry and earn an acceptable wage.
CompTIA Network+ Exam Domains Outlines
The CompTIA Network+ (N10-007) examination goals cover the subsequent topics:
Networking Concepts
Infrastructure
Network Operations
Network Troubleshooting and Tools
Networking Concepts
Defining the functions and applications of terminals and protocols
Explanation of devices, protocols, programs, and services at their respective OSI layers
Describing routing and switching concepts and attributes.
As well as establishing the necessary IP-addressing elements
In addition, it juxtaposes the characteristics of network topologies, kinds, and techniques.
Putting in place suitable wireless communications and configurations
Then, abstracting cloud notions and their determinants.
Furthermore, clarify the functions of network services.
Networking Infrastructure
First, implement the appropriate cabling solution.
Second, select the best location for networking equipment on an internet connection and set them up.
Also, outlining the constancies and use scenarios for modern networking equipment.
In addition, describe the benefits of virtualization and networked storage systems.
It is, furthermore, contrasting and comparing WAN systems.
Network Operations
Putting in place a proper cabling system
Determine and configure the proper placement of networking equipment on a computer network.
Explaining the concepts and applications of sophisticated networking equipment
Defining the goals of virtualization and storage network technologies
WAN technology comparison and reversal.
Summarizing physical safety device judgments
Explaining authorization and access controls
Additionally, establishing a primary wireless network
In addition, a summary of common networking threats.
Incorporating network device fortification as well
Identifying typical mitigating approaches and their applications
Network Troubleshooting and Tools
Outlining the network debugging procedure
Using the proper instrument
Troubleshooting simple wired communication and performance concerns
Furthermore, generic wireless connectivity and efficiency optimization
Furthermore, troubleshooting frequent network service issues
What Jobs Can You Get After Completing CompTIA Network+ Certification?
You can utilize this certification to apply for and land employment in any of the positions listed below:
Computer Service Technician
Computer technicians oversee all the software, hardware, and networks within a particular building. They are frequently relied upon to replace or fix broken equipment and to install new technologies. They troubleshoot issues with internet access, printing devices, computers, and systems, among other things. They may also interact with clients and assist them with computer problems.
IS Consultant
Instead of working in person with technology, IS experts offer advice and assist firms in determining which network technology best meets their company goals. These consultants are frequently involved in initiatives that necessitate considerable study into a company's network structures, and they also have advice on how much connectivity is required for various elements of operations. They may also advise a company on the software licensing it needs to keep its systems running.
Network Analyst
A network analyst undertakes some actual work as well as some consultancy. Their primary responsibility is to evaluate and monitor systems, which frequently includes fault diagnostics. They may also be responsible for developing new network structures for future growth or detecting possible security risks within the organization. Every day, network analysts analyze difficulties, and they may even collaborate with vendors to resolve any software problems that develop.
System Designer
A system engineer is in the position to manage a company's server infrastructure, which might range from updating software and security patches to adjusting various settings. They also monitor a network's efficiency and integrity by adhering to recommended practices for preventing hacking or virus assaultMajor corporations often work on network design, execution, and management.
Help Desk Technician
In an entry-level position, a help desk technician must troubleshoot problems for call-in consumers. They collaborate with vendors to fix software issues and may be expected to maintain the company's technology or train fresh staff members to use various technologies. To contact consumers regularly, help desk specialists must have excellent communication skills.
Field Service Technician (Network Field Technician)
Unexpectedly, a network field technician gets out into the field to work. They may visit customers' sites to establish wireless systems and work in customer service roles. The position necessitates a thorough understanding of networking devices in terms of configuration and how it functions in a larger business context.
Network Administrator
A network administrator is in charge of the organization's network structure. They may have vast responsibilities, such as managing an organization's complete IT system, or they may be more specialized, managing only one aspect of the system. Network administration necessitates a thorough understanding of all networking areas, from equipment to software – analyzing network traffic, deploying new equipment, modifying settings on remote devices such as switches and routers, and more.
What is the CompTIA Network+ Exam Cost?
The Network+ exam costs $319; nevertheless, students with an a.edu e-mail address typically obtain a discount, and several training facilities and materials provide discounts.
Remember that you might have additional costs if you want to buy study materials or attend training sessions to prepare for the exam. Before booking your Network+ exam, examining the current cost details and any possible discounts or specials is critical.
How Much Can You Earn After Completing CompTIA Network+ Exam?
The pay you'll make as a result of gaining CompTIA Network+ is dictated by the job you'll receive as a result of the certificate. So, when you inquire how much money you could earn with Network+, consider what roles you can obtain.
Here are a few instances (in addition to the average annual salary):
A systems engineer earns $90,920 per year.
A network administrator earns $84,810 per year.
A network engineer earns $83,510 per year.
An IT consultant pays you $79,377.
A network analyst will earn $72,785 per year.
A Network support generalist can earn $65,450 per year.
According to CIO.com, the network manager is one of the most desirable ten IT jobs in 2023. Following the Indeed.com Career Guide, network systems managers, network professionals, and senior IT advisors are in considerable demand.
Perquisites for The CompTIA Network+ Exam
The Network+ certification has not to have any prerequisites. Thus anyone may obtain it at any time without needing to demonstrate anything. According to CompTIA, individuals should have an A+ certificate and at least nine months of networking expertise.
We've noticed that possessing the CompTIA A+ is beneficial because it shows you've taken a CompTIA-style test before attempting the Network+; however, most Network+ candidates will do well on the Network+ regardless of whether they don't have the A+ if they prepare properly.
The most important aspect of completing the Network+ exam is understanding fundamental networking concepts such as subnetting, procedures, and the OSI model.
Conclusion
Beginning the voyage of network exploration with Network+ certification is a transforming experience. This thorough program provides learners with the necessary skills and understanding to confidently traverse the complex world of networks. Network+ provides a sound basis in everything from network structures and protocols to diagnosing connectivity issues.
CompTIA Network+ is valuable outside the classroom. This credential opens the door to a plethora of professional choices. Employers recognize and value Network+ certified individuals' competence, making them extremely rare in the IT business.
Furthermore, the Network+ program prepares students for this moment and future success. The curriculum continually evolves to keep up with constantly shifting landscape technology, guaranteeing that qualified persons are always one step ahead of the competition.
So, whether you're a talented IT expert or a budding network specialist, CompTIA Network+ is a helpful asset that will help you advance in your career. The diverse set of abilities gained through this certification enables you to successfully navigate both current and future complicated networks. Accept the golden opportunity provided by Network+ and embark on an enjoyable one toward professional progress and achievement.