11
mn read
Virtualizing the Future with VMware Certified Professional (VCP) Certification!
Virtualization is now recognized as a revolutionary force in the fast-expanding environment of computer technology, transforming how businesses function and the future of computation. VMware, a pioneering company that has been essential in advancing the widespread use of virtualization technologies, is in the spotlight of this transformation.
The demand for qualified people who can harness the power of digitalization has never been more robust as businesses progressively migrate their business activities to the digital sphere. Enter the VMware Certified Professional (VCP) credential, a mark of distinction that provides professionals with the knowledge and ability to traverse the complicated virtualization ecosystem effectively.
This blog explores virtualization and its enormous potential to shape the future of IT systems. The VCP certification is the key to unlocking a plethora of options. VCP certification is your key to success, as it can offer you a higher salary, job recognition, promotion opportunities, and many more.
Throughout this blog, we will look at the various aspects of VMware's virtualization remedies, the advantages of earning a VMware Certified Professional (VCP) certification, and the effect it can have on your professional future. We will also shine a light on the newest virtualization developments and technologies, providing vital insights to help you stay ahead in this constantly evolving environment.
Join us on this informative journey as we unearth the unrivaled opportunities that VMware Certified Professional (VCP) certification provides, and learn how you may become an inspiration in the fascinating field of virtualization. VCP can help you embrace the virtual world future!
What is VMware Certified Professional (VCP) Certification?
VMware Certified Professional (VCP) is a certification that demonstrates technical proficiency with VMware vSphere and associated technologies. A candidate must make a VMware-authorized instruction course, either via the internet or in person, demonstrate practical ability with VMware technologies, and pass the vSphere foundational Exam, as well as an additional exam if he opts to specialize in a particular technological track, to obtain this credential.
On March 10, 2014, VMware implemented a recertification policy. VCP credentials are valid for two years, after which the candidate must take the vSphere Fundamentals Exam and any appropriate elective exam to maintain certification.
It is one of the most prominent and sought-after certificates in the virtualization business. Professionals with the VMware Certified Professional (VCP) accreditation can demonstrate VMware software and explain how to use and troubleshoot it.
The VMware Certified Professional (VCP) aims to provide the finest services possible while adhering to the best standards for implementing VMware platforms across organizations. VMware Certified Professional (VCP) certification is an excellent step towards success.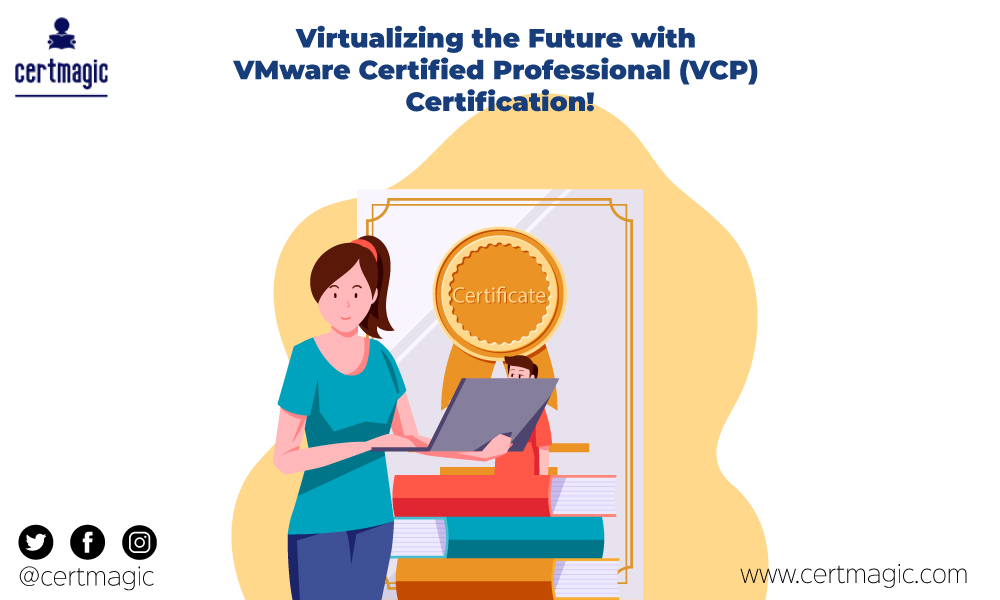 Benefits of a VMware Certified Professional (VCP) Certification
Becoming a VMware Certified Professional (VCP) opens the door to many fascinating prospects in the rapidly developing world of virtualization and cloud computing. For a good reason, this prestigious credential is well recognized and regarded in the IT sector. The advantages of obtaining VCP certification are extensive and can considerably enhance an IT professional's job prospects.
The VCP certification verifies a professional's knowledge of VMware methods, proving their ability to design, implement, and manage virtualized systems. As virtualization becomes more prevalent in current IT infrastructures, this skill is in great demand among businesses. Candidates with a VCP certification enjoy a competitive benefit in the job market, increasing their chances of obtaining lucrative opportunities with top-tier companies.
Furthermore, VCP holders have access to VMware's enormous community and resources, which provide possibilities for continual learning and development. VMware continually upgrades its technology, and as a professional with the certification, you can remain up to date on the newest breakthroughs through special training discussions, conferences, and conventions. This constant learning not only improves technical abilities but also promotes professional development.
The VCP certification is recognized worldwide, allowing workers to pursue international career prospects. As virtualization grows more prevalent across businesses, VCP holders may operate in healthcare, banking, and telecommunications, broadening their employment opportunities.
Furthermore, VCP certification gives opportunities for higher-paying positions. Employers are prepared to pay attractive salaries to those with specialist virtualization abilities since they are essential in maximizing resource use and lowering infrastructure expenses. A VCP-certified professional should anticipate earning more money and having a more stable financial situation in their career.
Furthermore, VCP certification increases self-confidence and develops a sense of success. The arduous preparation for the certification examination and the successful completion of the problematic evaluation instills pride in one's skills and motivates individuals to pursue additional professional improvements.
The VMware Certified Professional (VCP) credential provides numerous benefits to IT specialists. VCP certification is a worthwhile investment for anyone looking to flourish in the area of virtualization and cloud computing, from increased employment prospects and more significant potential for earnings to continual learning and personal improvement. Computer specialists establish themselves as industry experts by obtaining this certification, opening the door to a successful and happy career path.
What are the Basic Requirements for the VMware Certified Professional (VCP) Certification?
There are other VMware certifications (more are given below); however, the VCP is frequently mentioned. The VCP credential is the initial step toward obtaining upper-tier VMware certifications. It's also the initial VMware exam you'll encounter with stringent requirements. The VMware track discusses the VMware certification process and how to obtain VMware certification. The VMware certification path becomes progressively challenging as time passes.
The minimum criteria for the VMware VCP registration, on the other hand, are as follows:
Take the VCTA Exam after gaining some practical knowledge or through self-study.
Purchase and complete the VMware vSphere deploy, Configure, and Operate Course.
Pass the vSphere Fundamentals test (which is no longer necessary in most paths).
Choose, take, and pass a VCP optional exam (for example, Data Center Virtualization or Networking Virtualization).
Receive your VCP-(something) certification.
The VCTA accreditation is not required for the VCP. This strategy obtains the certification at the lowest possible cost.
Different Types of VMware Certified Professional (VCP) Certification
VMware Certified Professional (VCP) confirms the fundamental skills needed to incorporate and oversee various technology aspects to achieve optimal performance.
VMware offers a variety of VCP Certifications to serve a wide range of technological domains, including:
Virtualization of Data Centers (VCP-DCV): The VMware Certified Professional (VCP)'s data centers specialty provides a dependable and secure VMware infrastructure. The certification validates an applicant's capacity to administer and support the vSphere environment following best practices.
Virtualization of the Network (VCP-NV): This certification validates a person's ability to install, configure, and manage NSX virtual networking. The VCP-NV-certified expert helps with online communication and security.
VCP-CMA (VCP-Cloud Management and Automation: This certification validates the holder's understanding of VMware's vRealize Suite managing cloud software. All-suite elements include Lifecycle Director, vRealize Operations, automated processes, and log analytics.
VCP-DTM (End-User Computing): This credential holder guarantees the ability to provide end-user technology solutions such as technical assistance for VMware Horizon circumstances, including simulated desktops, applications, and web-based services.
VCP-Security (Security): The certified professional possesses the knowledge and competence to support VMware's security products. It validates the candidate's knowledge of VSphere Carbon Black Cloud, Workstation ONE, including the NSX-T Data Centers.
(VCP-AM) Application Modernization validates the applicant's knowledge of fundamental cloud-native capabilities such as containerized computing, Kubernetes, and application modernization. It also demonstrates administration capabilities for VMware Tanzu and associated systems such as Kubernetes Cluster and Mission Control, among others.
VCP-DW 2022 (Digital Workspace): This certification is for VMware's online workspace platform. It assesses the holder's ability to support end-to-end responsibilities such as keeping and enhancing infrastructure to guarantee the electronic or digital work environment runs successfully.
Who is a VCP-Certified Professional?
A VMware Certified Professional (VCP) is a person who has proven proficiency in VMware's virtualization software. VMware, an international innovator in cloud computing infrastructure and digital workstation technologies, provides several credentials to IT professionals that use their products.
To become a VCP Certified competent, one must pass the related certification test for the VMware platform where they wish to specialize. These tests cover various virtualization topics, including setting up, configuring, and overseeing VMware products. Furthermore, VCPs must recertify every two years to stay current with the latest VMware technology improvements.
IT professionals who are VCP certified have various advantages. It demonstrates better expertise in managing VMware systems, making them essential assets to companies looking to improve their virtualization architecture. Second, VCPs receive access to a robust community of certified specialists, which provides networking and knowledge exchange possibilities.
A VCP-licensed professional is a respected VMware virtualization specialist who can effectively deploy and manage VMware solutions. This accreditation demonstrates a dedication to excellence in the ever-changing world of virtualization technologies.
Roles and Responsibilities of a VCP-Certified Professional
Here are the significant roles and responsibilities of a VCP-Certified Professional:
Infrastructure Management for Virtualization: Your primary role as a VCP-certified expert is effectively managing virtualized infrastructure. It includes the deployment, configuration, and monitoring of virtual machines to guarantee optimum efficiency and resource use.
Troubleshooting and Problem-Solving: You should be comfortable identifying and addressing difficulties in virtualized setups. Your experience is critical in maintaining a seamless virtualized ecology, from finding performance bottlenecks to fixing compatibility issues.
Implementation of Security: Protecting virtualized environments is critical, and as a VCP-certified expert, you must put strong security measures in place. This process includes configuring access restrictions, encoding, and firewalls to protect confidential data and prevent illegal access.
Planning for Capacity: Your role requires you to manage resource allocation effectively. You should monitor consumption trends, forecast future demand, and schedule resource development to accommodate changing business needs.
Disaster Relief: Another critical role is the development of comprehensive catastrophe recovery methods. You must develop and implement backup strategies to ensure company continuity even in unanticipated disruptions.
Reporting and documentation: Accurate documentation is required for smooth engagement with teammates and stakeholders. You must document settings, changes, and problems as a VCP-certified professional and provide comprehensive reports as needed.
Keep up with Virtualization Trends: The technological landscape is constantly evolving, and you must keep up with the newest developments and developments. Constant development and education are essential for success in your position.
Communication and cooperation: You'll collaborate with IT teams, leadership, and end users. To comprehend requirements, handle issues, and maintain seamless operations, efficient interaction, and collaborative skills are required.
Performance Enhancement: It is vital to optimize virtual machine efficiency and resource utilization. To improve system effectiveness, you'll require that you fine-tune configurations and find areas for improvement.
Governance and Compliance: It is critical to adhere to industry norms and compliance regulations. You must guarantee that the virtualized environment complies with appropriate standards and security protocols as a VCP-certified expert.
VCP-certified personnel plays a critical role in managing safe, secure, and adaptable virtualized environments, allowing businesses to realize the full benefits of virtualization technology by meticulously fulfilling these tasks and responsibilities.
Benefits of Becoming a VCP-Certified Professional
VMware VCP certification provides access to certified transcripts, unlimited access to the VCP certification brand, invites to beta examinations and classes, a VMware virtual badge, savings from the VMware Press, and discounted entrance to VMware events. VCDX certification offers extra benefits, such as participation in the vExpert belonging, submitting specific input to product engineers, announcement support, and a bio element in the VCDX Registry.
VCP certification may assist candidates to advance in their careers. Most firms that utilize VMware virtualization software want their technicians and admins to be certified because a certificate is an easy way to check and confirm a potential employee's competence to clients. Most VCP-certified professionals work as system administrators, IT executives, or systems engineers.
Certification may also result in a wage boost. A VCP-certified systems admin can earn around $49,000 and $96,000 in 2017, while a VCP-certified IT executive can earn between $56,000 and $120,000.
What is VMware Certified Professional (VCP) Certification Cost?
The examination fee may vary depending on your region and currency. The Data Center Virtualization (VCP-DCV) credential costs $250 in the United States.
The preparatory course, "VMware vSphere: Install, Configure, Monitor [V7]", costs $4250. However, a significant probability is that another provider will provide this instruction for less money.
Professionals VMware vSphere 7. x (2V0-21.20) certification costs $250.
As you can probably tell from the heading of this blog entry, it's not cheap. It is because of a combination of circumstances.
The VMware Certified Professional (VCP) certification needs two examinations, one for $125, termed "Foundation," and another for $250, for $375. However, because the $125 exam is frequently included in the duration for number 2 and is no anymore needed, we'll call this particular one a $250 exam.
The VMware Certified Professional (VCP) Certification requires you to attend a $4250 "Must have Training Course" (usually Setup, Config, supervise, or Quick Track).
Yes. You read that correctly, people! The VMware Certified Professional (VCP) certification is available for the cheap, low cost of $4500! Come on in!
Aside from the sarcasm, this expense has proven to be a significant obstacle for individuals seeking VMware certification. It is value noting that online courses are typically less expensive than location courses.
Many will have the support of their employer, but what if you happen to be a freelancer or want to become VMware certified to improve your career prospects?
That $4500 isn't inexpensive, especially if you're presently unemployed. Indeed, the course prerequisite has become a source of contention within the VMware community and those seeking admission.
It doesn't take much digging to unearth some apparent anger in the community about the cost.
Overview of the VCP Certification Exam
VMware strives to guarantee that individuals have the requisite experience and abilities before registering for VCP certifications, as VCP certifications are widely recognized and trusted.
VMware has defined a set of prerequisites for attending VCP certifications.
To get the Data Center Virtualization (VCP-DCV) exam, candidates must first contact the following certifications:
Prerequisites
You should have between six and twelve months of working expertise with vSphere 7.
Attend one of the following training courses: VMware vSphere: Setup, Configure, manage [V7] (contents described in the preceding paragraph) OR VMware vSphere: Maximize and Scale [V7].
Pass the required Exam: Professional VMware vSphere 7. x (2V0-21.20) (details in the preceding paragraph)
These qualifications will change if you possess any previous VCP certificates. For more details, consult the authorized VMware VCP-DCV certification handbook.
VMware has established prerequisites for all VCP certifications, including the Data Center Virtualization (VCP-DCV) credential. VMware will not issue the certificate unless all conditions are met.
Exam Timeline
Data Center Virtualization (VCP-DCV) certificate requires candidates to solve 70 questions in 130 minutes. The pass mark is 300.
How Do I Make an Exam Schedule?
VMware exams must be taken either online or at a VMware-approved testing center. As VMware's approved assessment partner, Pearson VUE conducts and oversees all VMware Certificate examination schedules.
Go to the VMware Mylearn website and apply for the Exam online. After registering into its portal, you may look among the different exam testing facilities.
What is VMware Certified Professional (VCP) Certification Validity?
VMware first instituted a two-year renewal policy to ensure certification holders maintain their skills and have the most recent knowledge. VMware announced changes to the VCP renewal method in April 2019, removing the two-year required renewal requirement.
As a result, if you choose not to upgrade to a more recent accreditation, your VCP credential will remain valid.
Due to the constant upgrades to VMware goods and services, upgrading certificates and recertification are still required to keep up-to-date information and skills. If you want to improve or recertify, you can learn more about VMware's system of recertification policy.
How to Prepare for the VMware Certified Professional – VCP Exam?
The VMware Certified Professional (VCP) Exam contains 85 questions and an eight-question pre-exam questionnaire. The Exam takes 90 minutes to complete for candidates. The VMware Certified Professional (VCP) Exam is graded on a scale of 100 to 500, with 300 being the passing result. After failing a supervised exam, there is a seven-day waiting time before retaking the VCP exam. There is no waiting time after a failed no proctored test attempt.
Taking a VCP-level test costs $225; however, training courses and supplemental study materials are extra. VMware provides exam practice kits for the general vSphere Fundamentals exam and each specific certification track.
These e-learning exam containers, delivered by VMware teachers, contain a thorough overview of exam topics.
Candidates should research the official exam guidelines, take online training examinations, find or join a study group, and establish a laboratory setting to test out new environments and tools, in addition to utilizing VMware-sponsored materials such as the VCP Forum and the VMware Training Zone.
Candidates can use the Pearson VUE site to explore exam selections, choose a testing location, and register for a VCP exam.
Conclusion
The VMware Certified Professional (VCP) certification sets the door for a positive virtualization future. Certified experts are well-equipped to traverse the ever-changing environment of IT infrastructures since they are well-versed in leading-edge VMware technology. Businesses may streamline operations, cut expenses, and improve overall efficiency by leveraging the authority of virtualization.
Adopting the VMware Certified Professional (VCP) certification provides individuals with a competitive benefit in the job market, providing doors to various professional prospects in cloud-based computing and virtualization. As the demand for qualified experts in this field grows, becoming VCP-certified positions applicants as significant assets to any firm trying to stay on the cutting edge of technological innovation.
Furthermore, the certification encourages a deeper grasp of the latest techniques and industry standards, not just technical skills. Professionals with this experience can design and maintain sophisticated virtual environments that meet the specific needs of various enterprises.
Virtualizing the probable future with VMware Certified Professional certification has the potential to transform IT landscapes throughout industries. As more firms implement virtualization technology, being eligible for VCP-certified individuals on board becomes increasingly essential. VCP is the gateway to an inventive and ecological tomorrow thanks to its unparalleled ability to maximize resource efficiency and support scalable infrastructures. Read more trending Information certification blogs and Articles about technology.