7
mn read
Shielding Your Future: Navigating the CompTIA Security+ SY0-601 Exam!
Meta Title
Master the CompTIA Security+ SY0-601 Exam: Your Path to a Secure Future
Meta Description
Master the CompTIA Security+ SY0-601 Exam and pave the way to a secure future in cybersecurity. Learn essential tips for success in this comprehensive guide.
Introduction
CompTIA's Security+ SY0-601 test is complex, and for $381 USD, it's not one you'll want to take twice. That's why we'll give our exam expertise to assist you in developing a strategy to cross this credential off your list.
Keep in mind that this is a basic test. While there is a lot of material to cover, nothing is overly detailed. This is a doable difficulty with the correct mentality and study materials. You can do it.
Hands-on occupations requiring technological insight, such as cybersecurity, are essential in today's interconnected society. However, candidates must also complete specific examinations to verify their fitness, particularly for entry-level positions.
The benefit of a CompTIA Security+ SY0-601 certification Exam is that it allows you to accomplish the work ahead of time, allowing you to demonstrate your expertise and capacity without having to take a skills exam as part of your interview.
What is CompTIA Security+ SY0-601 Certification?
The CompTIA Security+ SY0-601 certification is essential to establishing your cybersecurity profession. CompTIA Security+ SY)-601 was created to examine your knowledge of various security-related subjects and technologies. The accreditation is vendor-neutral, which means it is not focused on specific products or solutions, which makes it an excellent place to start if you want a comprehensive foundation. Despite being considered entry-level in cybersecurity, the test is difficult to pass without preparation.
Benefits of Getting a CompTIA Security+ SY0-601 Certification
One of the benefits of a CompTIA Security+ SY0-601 certification is that there are no requirements. This makes it a viable option for recent cybersecurity graduates looking for their first job in the area to exhibit their knowledge and abilities without requiring any previous work experience.
While CompTIA Network+ accreditation and two years of experience in IT leadership (with a focus on security) are recommended, there are no prerequisites for taking this test. So you may put your talents to the test right immediately — or wait until you've gained some professional experience.
The following are some advantages of earning a CompTIA Security+ accreditation:
Internationally acknowledged
ISO 17024 standards compliance
Allows you to remain up to date on the latest technology.
Valid for three years after the completion of your test (and simple to renew)
What is the CompTIA Security+ SY0-601 Exam?
The CompTIA Security+ SY0-601 exam validates your knowledge and abilities across several areas. A thorough assessment validates your ability to deal with current security concerns such as network security, access and identity management, encryption, recognizing risks, and more.
The exam structure combines multiple-choice queries with performance-oriented scenarios to assess your theoretical knowledge and ability to apply that information in real-world settings.
The exam has a time restriction of 90 minutes and an aggregate of 90 questions. You obtain a minimum score of 750 out of 900 on the CompTIA Security+ SY0-601 test. The test blueprint addresses a wide range of critical security disciplines.
As an entry-level security certification, it is ideal for IT workers with minimal experience and those migrating from other IT professions to cybersecurity. While there are no set prerequisites for taking the test, it is advised that you have at least two years of direct involvement in an IT career with a security focus. This experience can considerably improve your capacity to learn and master the test content.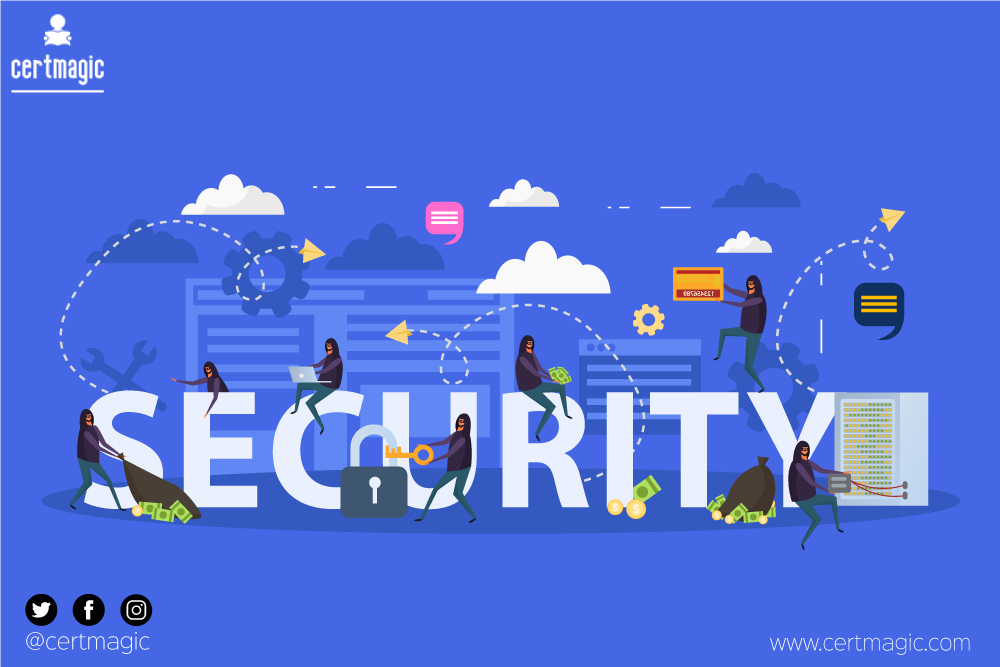 CompTIA Security+ SY0-601 Exam Details
Obtaining a CompTIA Security+ SY0-601 certification isn't going to be easy; there will be a lot of challenging work and studying involved, making it a significant commitment of time and cash.
Take a look at the examination details below to get a better understanding of what to expect on this test:
Exam Name: CompTIA Security+
Exam Code: SY0-601
Number of Questions: There are 90 questions.
Exam Duration: 90 minutes
Exam Format: Multiple-choice and performance-based questions
Passing Score: 750 (on a rating scale of 100-900).
Perquisites: CompTIA Network+ certification and two years of work experience in IT management with a security focus are preferred.
Exam Fee: $381 USD
CompTIA Security+ SY0-601 Exam Domains
This is an essential component of your test preparation. That is, each test includes significant topics. To have an improved understanding of the subject, reviewing each portion is vital.
Then, assemble the study materials that are most suited to your requirements. It is typically better to begin with the most challenging topics. Once you've conquered them, you can select your own pace for the other domains you'll need to learn. However, the CompTIA Security+ SY0-601 test domains are:
Fundamental Security Concepts
Contrast and contrast different forms of security safeguards.
Summarize basic security ideas.
Explain the significance of change management methods and how they affect security.
Explain why it is critical to use proper cryptographic solutions.
Vulnerabilities, Threats, and Mitigations
Contrast the motivations and threats of common threat actors.
Describe the most typical danger vectors and targets.
Describe the numerous sorts of vulnerabilities.
Analyze signs of malicious behavior given a context.
Explain the aim of the enterprise security mitigation approaches.
Information Security Architecture
Contrast the security implications of various architectural paradigms.
Apply security concepts to safeguard corporate infrastructure given a scenario.
Compare and contrast data protection concepts and techniques.
Explain why resilience and recovery are essential in security architecture.
Security Operations
Apply conventional security procedures to computing resources in response to a circumstance.
Explain how effective data, software, and hardware asset management affects security.
Explain the various actions involved in vulnerability management.
Explain the ideas and mechanisms of security alerting and monitoring.
Modify corporate capabilities to improve security in response to a circumstance.
Establish and uphold identity and access control given a situation.
Explain the significance of organization and automation in secure operations.
Describe the proper incident response activities.
Security Program Administration
Compile a list of the components of good security governance.
Describe the components of the risk management method.
Describe the procedures involved in third-party risk evaluation and handling.
Compile a list of the components of effective security compliance.
Explain the different types and objectives of audits and evaluations.
Implement security awareness techniques in response to a circumstance.
How to Get Ready For the CompTIA Security+ SY0-601 Exam?
Recognize Your Learning Style
Before proceeding, you must first assess how you prefer to study. You could learn best by reading educational materials, or you may prefer to learn by viewing lectures. The most significant resources in the world won't help you if the knowledge isn't presented in the best method for you. It would be best if you remained focused and motivated.
Don't Waste Time
After achieving a network basics accreditation, such as Cisco Certified Networking Associate (CCNA) or CompTIA Network+, many people seek the CompTIA Security+ SY0-601 Exam. If you're on the same route, you should start studying for Security+. This is due to two significant factors.
Security+ will test you on essential concepts such as ports and protocols. These will be new to your mind. The security domain accounts for 19% of the test topics in Network+. All of this will be brought back in the CompTIA Security+ SY0-601 Exam.
When studying for the exam, you'll see that around one-third of the content is already recognizable from your CompTIA Security+ SY0-601 Exam studies. As appealing as it is to take a break before moving on to your next task, jump right in and spare yourself the trouble of memorizing these areas.
Make a study schedule.
Now that you've determined what to learn, creating a study strategy is time. Plan your research carefully after you've learned about the exam domains and all of the regions that come under them, and keep all of the materials that belong in the same category altogether. Ensure you learn fresh information about your prior domain while preparing for the next.
Here are some pointers for making a study schedule:
Study the exam objectives and determine where to concentrate your preparation efforts.
Calculate how much time you'll need to prepare for the test and divide it among various study activities.
Divide the information into small bits and assign particular themes to each study session.
Set attainable goals for every study session and keep track of your progress.
Plan on reviewing and reinforcing the content regularly to ensure it sticks.
Fill Knowledge Gaps
When you read every section of the CompTIA Security+ SY0-601 Exam syllabus, you will most certainly come across departments where you lack sufficient knowledge. It would be beneficial to devise a feasible research plan while considering your weak points. Then, during your preparation, pay close attention to them. Make the most of the authorized CompTIA Security+ SY0-601 Exam Certification Study Guide when studying for these CompTIA Security+ curriculum topics.
Keep in mind that certain supplies must be purchased. Alternatively, you might search for alternative online sites that offer free study assistance. Furthermore, you may enroll in training classes that will help you properly comprehend the CompTIA Security+ curriculum subjects. You may also learn from other individuals by participating in a virtual discussion board or community.
Check Your Current Knowledge Level
Besides passing the CompTIA Security+ SY0-601 test, professionals interested in obtaining the CompTIA Security+ exam certification must meet no criteria. However, having practical experience might be an added benefit that will increase your chances of getting the certification.
If you do not possess technical expertise, CompTIA recommends obtaining the A+ or Network+ credentials before taking the SY0-601 test. It is to assist you in developing the necessary knowledge and technical abilities required for this CompTIA-certified test. It is also recommended that you possess at least two years of expertise in IT administration, preferably in the security sector.
Schedule the Exam
Make a decision and stick to it. Without a goal in sight, procrastinating becomes simple, and excuses abound. You could think, "Taking a little additional time couldn't hurt," nor "I'll feel better after another week of studying."  Another month has gone by before you realize it.
If the deadline is nearing and you're confident you're not on time, CompTIA permits you to reschedule your test within 24 hours of taking it. Setting a date on your calendar and paying money down is a psychological motivator that will propel you forward.
Fire What You Know and Dump What You Don't
After finishing the performance-oriented questions, go through the open-ended ones quickly. If you read anything and aren't sure about it immediately, go on. The idea here is to eliminate all the ones you're confident about. There are two advantages to doing so.
You may now see how much time you must devote to the topics you must consider.
Unintentional indications are sometimes found in the wording of other inquiries.
Consider seeing a query with RAID as a possible response and being unable to recall it.
You could look at it for a few moments trying to recall, but instead, you go on to another question asking which sort of RAID is utilized for reliability and performance. You discovered the solution to your query by reading forward.
Conclusion
The amount of time spent studying for the CompTIA Security+ SY0-601 Exam is essential for assessing its difficulty. The test necessitates a systematic approach to learning and comprehending the numerous security disciplines. Creating a study plan, allocating committed study time, and adhering to a defined curriculum may all help you be more prepared. Hands-on knowledge and exposure to actual situations via laboratories or virtual environments may help increase your confidence and grasp of test themes. Comment below your any query related to the CompTIA Security+ SY0-601 Exam and get your answers accordingly!