11
mn read
Managing Risk with Certified in Risk and Information Systems Control (CRISC)!
The changing technology environs in an ever-more connected and digital society presents extraordinary latent and many threats. Organizations today face an assault of cyber-attacks, security breaks, and operative flaws that can weaken their fundamental groundwork. The importance of effectively managing these dangers cannot be exaggerated as firms attempt to influence the power of technology.
In this sea of uncertainty, enter Certified in Risk and Information Systems Control (CRISC), an indicator of competence. Certified in Risk and Information Systems Control (CRISC) emerges as a top credential in the drive for fortified computer systems and robust risk management methods, empowering professionals with the understanding and abilities to negotiate the complicated terrain of current corporate hazards.
With CRISC as our leading light, we dig deep into the world of risk management in this captivating journey. We examine the value of Certified in Risk and Information Systems Control (CRISC) in today's risk environment, peeling back its many layers to see how it provides individuals with a holistic mentality that embraces risk detection, assessment, response, and reduction rather than just a certification.
This blog will cover the CRISC arena with finesse, from demystifying the challenging ideas supporting this certification to highlighting real-world instances demonstrating its effectiveness.
Join us as we demystify the realm of CRISC and reveal how it stands as a fortification against the stormy waves of digital risk, regardless you're a prospective professional trying to reinforce your professional prospects or a seasoned veteran seeking to stay ahead in the risk-managing game.
Explore this informative blog to learn more about the Certified in Risk and Information Systems Control (CRISC) certification.
What is a Certified in Risk and Information Systems Control (CRISC) Certification?
The Certified in Risk and Information Systems Control (CRISC) program validates expertise and education in risk management for information systems. CRISC is among the many certificates offered by the United States National Standards Institute (ANSI)-accredited IT Auditing and Control Association (ISACA).
CRISC can give security engineers a clear indicator of their risk-taking experience and understanding in the enterprise and financial industries. The accreditation benefits business consultants and those who work directly for enterprises in IT operations, safety, and other areas. CRISC is an acknowledged and recognized accreditation for seasoned IT professionals who have studied safety and gained the skills to assess and manage IT risk.
The CRISC certification is offered by the ISACA, which now chooses to go by its acronym to highlight the wide variety of IT supremacy professionals it serves. ISACA developed the CRISC certification to assist security experts in demonstrating their skill and consciousness of the impact of IT risk and how it affects their organization.
Understanding risk is required for work in the closely connected domains of cybercrime and risk management. Organizations currently face a flood of cyber weaknesses, and successful remediation strategies must be predicated on how a breach affects the firm's danger profile.
Certified in Risk and Information Systems Control (CRISC) accreditation is excellent for those in their mid-career who work in IT/IS audit, danger, and security. ISACA believes more than 30,000 CRISC-certified individuals are employed in these industries.
Why is CRISC Certification Important?
Risk management is a hot topic, given the prevalence of cybercrime, particularly data theft and deception. As more of both our professional and personal lives move online, cybersecurity has grown into a significant responsibility, particularly for organizations. After all, a significant data breach might end in enormous financial losses and possibly company bankruptcy. A company that cannot keep its activities secure develops an image of dishonesty and danger, which can have long-term consequences.
CRISC-certified professionals know better about information technology hazards and how they affect a company. They also develop strategies and plans for managing those risks. Finally, CRISC practitioners create a universal language to help IT organizations and other interested parties communicate and understand one another.
Why Must You Get the CRISC Certification?
It demonstrates that you have risk assessment skills and are familiar with the Certified in Risk and Information Systems Control (CRISC) domains.
The ISACA is an internationally renowned credential that allows you to work in firms worldwide.
CRISC can assist you in advancing your career, and these abilities are in high demand.
Obtaining your Certified in Risk and Information Systems Control (CRISC) allows you to keep your skills current.
It is a physical indicator of your risk management knowledge and skill, demonstrating that you have completed your Certified in Risk and Information Systems Control (CRISC) course.
It increases your worth to any organization or business that wants to manage IT risk properly.
It gives you an advantage over others looking for a job or promotion.
It exposes you to the ISACA global network of expertise, including the most recent IT risk management ideas.
It assists you in achieving and maintaining an excellent standard of ethical behavior through ISACA's continuous education and ethics standards.
Who is a Certified Risk and Information Systems Control Professional?
In a world where the digital environment is continuously changing, the job of a Certified Risk and Information Systems Control (CRISC) professional appears as an essential defender of organizational resilience. The course taken through the subject has shown the importance of CRISC experts as front-line defenders against the ever-present dangers to information systems.
As we finish, it is clear that being a Certified Risk and Information Systems Control (CRISC) expert is more than a credential; it is a dedication to protecting critical information, managing risks, and guiding organizations toward secure futures. They bridge the gap between business and technology, allowing for educated decision-making that surpasses the technological age's intricacies.
The CRISC certification denotes a thorough understanding of risk administration and information control systems, allowing these experts to design robust frameworks that protect firms from possible calamities. Their knowledge enables businesses to adapt, develop, and thrive during changing conditions.
CRISC experts serve as the stewards of trust in a world where data is vital to operations. Their commitment to ongoing learning and skill advancement demonstrates their unrelenting desire to keep abreast of the curve. A CRISC expert, in essence, represents resilience, understanding, and vigilance—a true guard in digital risk.
Roles and Responsibilities of a CRISC-Certified Professional
A Certified Risk and Information Systems Control or CRISC expert is critical in today's complicated and rapidly changing technology scene. This ISACA certification denotes a high experience in managing IT and enterprise risk. A CRISC-certified professional's duties and obligations are diverse and influential, adding considerably to the company's risk management initiatives.
A CRISC-certified professional's primary duty is to detect and assess potential hazards to the company's computer systems. It entails conducting comprehensive risk assessments, examining vulnerabilities, and evaluating various threats' possible impact on company processes. They accomplish so by providing enterprises with helpful information that allows for educated choice-making to mitigate or prevent future hazards.
CRISC-certified professionals must also establish and implement robust risk control plans. These plans define strategies for dealing with recognized risks, such as risk minimization, risk transfer, or accepting hazards based on the firm's risk appetite. They work with cross-functional groups to ensure preventive measures are smoothly integrated into business processes.
Furthermore, a CRISC-certified expert routinely analyzes and evaluates the efficiency of risk management measures that have been installed. They assess whether the safety measures are performing as intended and, if necessary, alter them to meet new dangers and developing business needs. This continuous monitoring guarantees that a company's risk management strategy is adaptable and flexible.
Furthermore, these specialists are critical in educating and training staff on danger awareness and optimal procedures. They facilitate meetings, conferences, and training sessions to improve the overall risk posture of the firm. It allows employees to recognize and report possible risks and promotes a risk-aware culture throughout the firm.
CRISC-certified individuals manage risks associated with technologies and information systems within a company. Their experience in risk evaluation, control deployment, monitoring, and education guarantees that enterprises can confidently and resiliently manage the evolving world of cybercrime and IT risk.
What is a Certified in Risk and Information Systems Control (CRISC) Exam?
The Certified in Risk and Information Systems Control (CRISC) Exam is an expert certification exam created for individuals with expertise in managing and reducing business risks associated with information technology. Certified in Risk and Information Systems Control (CRISC) is a worldwide recognized certification offered by the ISACA that empowers a candidate's knowledge in risk administration, management assurance, and information technology control.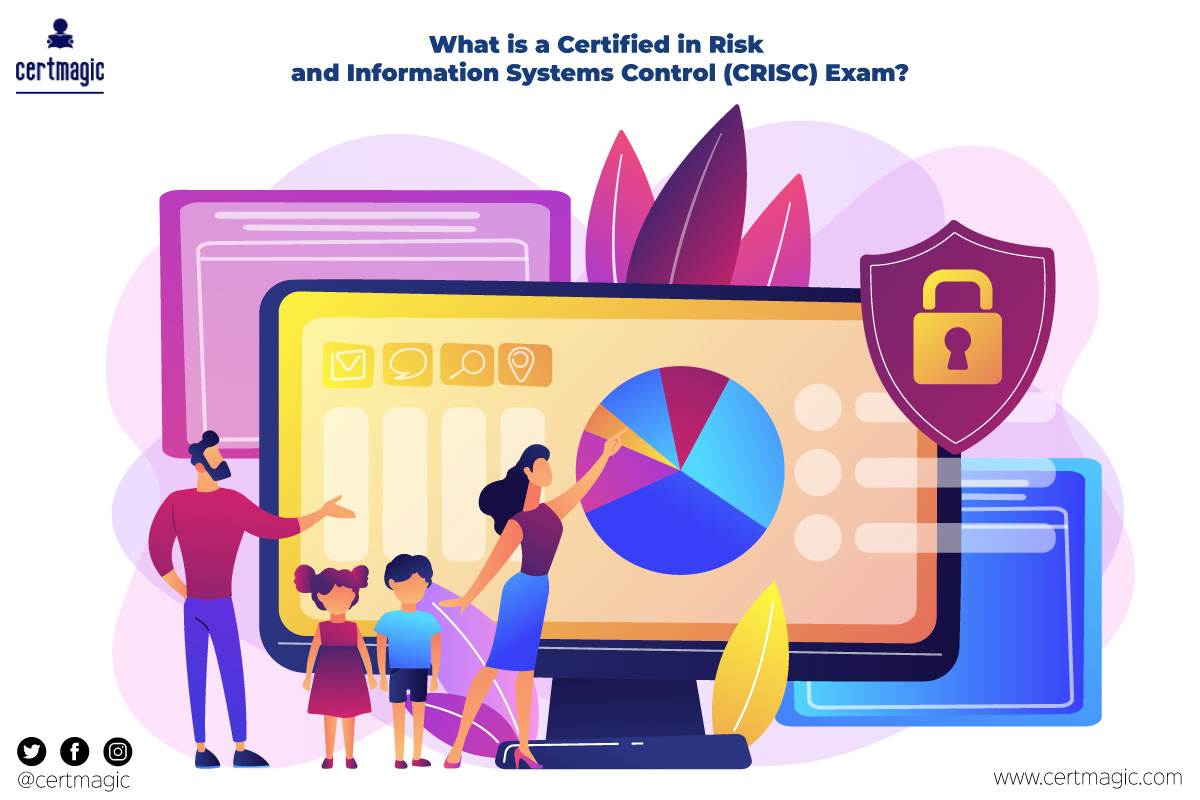 This comprehensive exam measures candidates' skills and expertise in four major areas: risk identification, evaluation, and evaluation; risk reaction and mitigation; control and risk tracking and monitoring; and control, governance, and risk management structures. The capacity to develop and carry out effective risk control and management methods within complex IT settings is demonstrated by passing the Certified in Risk and Information Systems Control (CRISC) Exam.
CRISC-certified personnel are in high demand across multiple industries because they bring unique abilities that bridge the division between IT and business. The Certified in Risk and Information Systems Control (CRISC) certification verifies one's skills while demonstrating a commitment to constant learning and professional growth in computer systems control and risk mitigation.
CRISC Exam Details
ISACA certification tests are all computer-based and given at approved testing sites. You may sign up at any point and have a year after enrolling to finish the examinations.
Following the conclusion of the exam, you will be allowed to see your initial passing status displayed at the testing center. Within ten working days, your official result will be accessible online and by email. If you have been successful, you will be sent information on how to apply for certification. Exam results are scaled—a scaling score results from converting a candidate's raw test score to a standard scale.
The goal of a scaled score is to ensure that a consistent method of reporting results is used throughout all exam versions so that various interpretations are equivalent and fair. ISACA employs and reports ratings ranging from 200 to 800.
To pass the certification exam, you must earn a score of 450 or higher, indicating the minimum knowledge level.
You will have four chances to pass the exam over a year. If you do not pass the exam on the first try, you may retake it three times within a year following your initial attempt. Please remember that the registration cost must be paid for every test attempt.
CRISC Exam Domains
The best method for completing the CRISC exam is to understand how it is constructed and what is included. The Certified in Risk and Information Systems Control (CRISC) Task Force devised an assessment for four job experience domains. They are as follows:
Domain 1: Governance – 26%.
This topic is divided into two separate categories of governance:
Framework for Organizational Governance (A)
Strategy, goals, and the goals of the organization
Roles and duties, organizational framework
The culture within an organization
Policies and guidelines
Processes within companies
Assets of the organization
Risk Governance 
Business risk management and the risk management framework
There are three lines of protection.
Profile of danger
Risk aversion and risk appetite
Legal, governing, and contractual obligations
Risk management ethical standards
Domain 2: IT Risk Assessment – 20%
This domain has two sections:
Identification of IT Risks
Risk events (for example, contributing conditions, loss outcome)
Threat environment and threat assessment
Analysis of susceptibility and control deficiencies (e.g., root cause analysis)
Risk Scenario Development
IT Risk Analysis and Evaluation 
Concepts, criteria, and frameworks for risk assessment
Register of Risks
Methodologies for risk analysis
Analyze the business impact
Risks inherent and lingering
Domain 3: Risk Response and Management – 32%
This domain has three components:
Risk Response
Options for risk treatment/risk mitigation
Ownership of risk and control
Management of third-party risks
Management of issues, discoveries, and exceptions
Emerging risk administration
Planning and carrying out of Controls
Standards and structures under control
Design, choosing, and analysis of controls
Implementation of control
Control evaluation and effectiveness assessment
Risk Assessment and Reporting
Plans for risk treatment
Collection, gathering, analysis, and verification of data
Techniques for risk and control assessment
Techniques for risk and control monitoring (heatmaps, rating systems, and widgets)
Important indicators of performance
Kris (key hazard indicators)
Key performance indicators (KPIs)
Domain 4: IT and Security – 22%
Finally, this last domain has two parts:
Principles of Information Technology
Business architecture
Management of IT operations (for example, controlling changes, IT assets, difficulties, and incidents)
Project administration
DRM stands for disaster recovery administration.
Management of the data lifecycle
SDLC stands for a system's creation life cycle.
Technologies in development
Principles of Information Security
Concepts, paradigms, and standards for data safety
Training in data safety sensitivity management for business continuity
The notion of the confidentiality and safety of data
This domain categorization can help you plan your groundwork for the Certified in Risk and Information Systems Control (CRISC) exam. Here's a collection of exam materials to assist you in getting through the procedure.
All ISACA certification tests consist of 150 multiple-choice questions based on the most current job practice analysis, encompassing the applicable job practice areas. The exam will take four hours to finish.
How Much is CRISC Certification Cost?
The candidate's ISACA membership level determines the exam registration cost at the time of registration. ISACS members pay $575.00, while individuals who are not members pay $760.00.
Additional training and test-prep courses are optional, although seminars are offered for applicants who want to get a head start on the exam. However, certified in Risk and Information Systems Control (CRISC) certification is relatively inexpensive compared to various professional security certificates.
ISACA provides a Certified in Risk and Information Systems Control (CRISC) online assessment course to help applicants prepare for the CRISC accreditation exam. The system includes all four CRISC areas, with each section directly corresponding to a CRISC job practice. This review course costs $795 for ISACA users and $895 for those who are not members.
ISACA offers digital instructor-guided CRISC test prep training sessions regularly. The regular price for members is $995, and individuals who are not members pay $1195. Members pay $945 to receive early bird pricing, while non-members pay $1145.
A CRISC Concerns, Answers, and Discussions handbook costs $72, a review manual costs $105, and a 12-month online membership to an archive of exam inquiries costs $399.
Independent training institutes also provide courses to help students study for the upcoming CRISC exam. These vary in price.
What is a CRISC-Certified Professional's Salary?
Because the credential applies to multiple security roles across many organizations, the typical compensation for CRISC members will vary. Obtaining this qualification will qualify an applicant for promotion to more lucrative jobs or increased salary in their existing employment.
According to ISACA, the average CRISC credential holder makes more than $151,000 per year.
As security experts' careers advance, they should consider obtaining further professional qualifications. Given the market's increased need for experienced cybersecurity specialists, acquiring a CRISC will open doors to mid-level opportunities. More information on how to pick the best cybersecurity credentials may be found here.
According to the job site, the following is the typical income for cybersecurity experts in occupations that frequently need or reward for CRISC certification:
$88,770 for Risk Manager
$109,118 for Security Engineer
$93,595 for Senior Risk Analyst
$85,269 for Security Analyst
$81,902 for Risk Analyst
Rendering to the BLS, the average salary of Information Security Specialists (a position that frequently requires a CRISC) is $102,600. According to the BLS, the outlook will increase by 33% between 2020 and 2030. This expected increase is significantly faster than the average pace of job growth.
How to Get a CRISC Certification?
Given all the advantages, you're probably asking how to obtain ISACA Certified in Risk and Information Systems Control (CRISC) credential eligibility. What you require to do to get certified in risk and information networks control is as follows:
Take and pass the Certified in Risk and Information Systems Control (CRISC) exam.
Gain experience in IT risk administration and information system control; at least 3 years of combined work experience as a CRISC professional in at least two of the four CRISC categories is required. Domain 1 or Domain 2 must be one of the two necessary domains. There are no previous experience exemptions or substitutes available. You must put out the effort! Your employers have to confirm any work experience independently.
Complete a Certified in Risk and Information Systems Control (CRISC) Certification Form.
Work experience must obtain ten years before the certification submission date or within five years of passing the examination.
Commit to the Code of Professional Conduct to uphold professional and private behavior standards. It includes not sharing information obtained while doing duties unless authorized by law. The member must carry out their responsibilities professionally, with effort and objectivity, following standard procedures and professional standards. Finally, they have to constantly uphold a high degree of character, conduct, and values.
Maintain compliance with the Continuing Education for Professionals (CPE) Policy, which necessitates a minimum of 20 hours of interaction with CPE every year, plus maintenance costs.
Conclusion
Adopting the Certified in Risk and Information Systems Control (CRISC) certification as an essential component of risk management is a wise step in today's volatile corporate world. CRISC not only provides professionals with a thorough understanding of risk identification, mitigation, and management but also instills an optimistic attitude essential for navigating the intricacies of today's digital world.
The CRISC certification is a powerful instrument that helps firms defend their computer networks against threats. As technology advances at an extraordinary pace, the significance of CRISC-certified individuals in preserving sensitive data and maintaining business continuity becomes increasingly essential.
CRISC provides a systematic framework to successfully predict, address, and reduce risks in a world of diverse, changing, and frequently linked hazards. CRISC adoption is a commitment to staying ahead of the risk curve, delivering a safe and resilient ecosystem for enterprises and their clients. Read more blogs and Articles about Information technology certifications and latest technology.